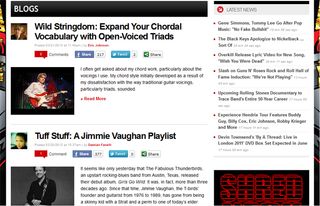 GuitarWorld.com and GuitarAficionado.com are looking for volunteer bloggers.
If you're a professional or semi-professional musician (session and/or touring), a guitar builder, a guitar teacher, a guitar repairman (or woman), a guitar shop owner, a regular guy who happens to be an expert on Fender Jazzmasters or Gibson SGs, a reviewer of gear, or -- well, you get the idea -- and feel you have something to say that might be helpful and/or interesting to guitarists or bassists, write to Online Managing Editor Damian Fanelli at damian@guitarworld.com.
Please fill me in on your background and tell me why your blog would be interesting and authoritative. If you have writing samples or links to include, please do that!
For current blog samples, check out the BLOGS section on GuitarWorld.com.
Once again, blogs are written on a volunteer basis.