After being confined to his adopted homeland of Japan for the entirety of the COVID-19 pandemic, much to the delight of his fans, guitarist Marty Friedman is making his long-awaited turn to the States alongside former scene mates, Queensrÿche and Trauma.
But if you're assuming that Friedman – or his band – will need to shake the rust off, think again. Quite the contrary, as the ever-cerebral six-stringer has made several jaunts around Japan, keeping his chops up and keeping his band tight.
"Though we couldn't leave Japan, we've managed to stay busy," Friedman reveals. "But playing in America is a different animal than Japan. The sheer volume of shows allows the band to get to a different level of excitement. If you tour in Japan, and you do three shows, you're still essentially in rehearsal mode, even though, in general, my band is on fire."
"There's something different about traveling every day and playing this many shows that the band gets a different sort of fire under them," Friedman continues. "It's a lot easier to a lot easier to connect with the audience because the music is so incredibly ingrained in everybody to where it's more like an out-of-body experience rather than strictly entertainment mode."
Since Friedman last journeyed Stateside, he's released another stunner – Tokyo Jukebox 3 (2021). And while he's debuted his latest across Japanese stages, this tour will represent its first exposure amongst the American masses. Still, fans probably won't be able to help but wonder if the classics will be afoot, too.
When asked about the potential for old and new cuts intermingling within his setlist, Friedman went on to say: "I've got so many albums, so it boils down to what we can make the most exciting show out of. We're not picking one album to focus on; the set will feature things from all eras. There will be stuff from my first solo album ranging up to my most recent solo album, Jukebox 3. It's going to be interesting since we haven't toured it around America yet. It's different from my previous material, but I find it equally, if not more exciting."
Most recent news surrounding Friedman has centered around his performance with his old friends in Megadeth at Tokyo's vaunted Budokan Arena.
Of his long-awaited reunion with Dave Mustaine, the Jackson-toting rocker says, "We're just two rock 'n' rollers with teenage dreams that never die. Both of us did whatever we had to do to make it happen. I think with guys who have had long careers, you'll probably find that we are very much in touch with our 15-year-old selves. And that is the prime motivator to go out of our way, on a daily basis really, to create situations that would give that 15-year-old self a woody."
When asked if there are any imminent plans for further reunions with Mustaine and company, Friedman contained, "We [Megadeth and Friedman] are both playing at Wacken Open Air Festival in Germany this summer, so you never know."
Beyond Megadeth-related activity, there's much to rejoice about for fans of the veteran guitarist. To that end, as he embarks on his first tour on American soil since 2019, Marty Friedman dialed in with Guitar World to discuss why he's so excited to get out on the road, how he designed his Jackson MF-1 signature guitar, recording with Jason Becker in the '80s – and, of course, just a little bit more about that much talked-about guest spot…
Before we hit on your impending tour, what was most challenging about getting on stage again with Megadeth?
"It was less challenging and more like that innocent and pleasant anxious feeling you might get when getting ready to go out with a drop-dead stunner. If there was any challenge at all, I guess it would be playing the solos the way the fans remember them, which is something I wanted to do. My playing has evolved so much since those songs came out, and there are so many nuances I would naturally do differently now.
"I had to resist the urge to play it like I would in 2023 and stick to the original way. For example, in a couple of those songs, I entered the solo on the downbeat, with the first note being the root of the chord. I would definitely avoid both of those things now, but apparently, I was fine with it back then!
How did you approach the songs from a lead perspective, given that Kiko Loureiro was on stage as well?
"Kiko was kind enough to mirror Dave's parts, so for me, it was very much like it was when I was in the band, only with the rhythms in stereo. He did come up with some neat harmonies to some of my lines in Countdown to Extinction."
How do you compare your style to Kiko's, and how do they complement each other?
"I'm not so great at comparing guitarists, but I can tell you that Kiko is a wonderful player with a wide variety of brilliant techniques and an incredibly versatile musical sense under his belt. I think he brings something fantastic and important to the band. I think we both have an interest in 'gypsy' motifs in common, but we construct melodies in a different way. I like his playing a lot."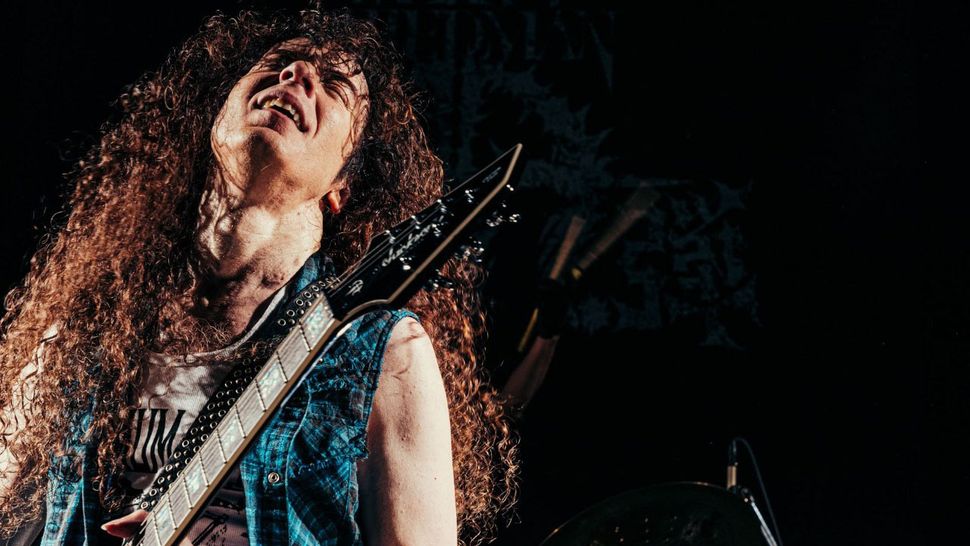 How do you measure your role within Megadeth's history, and what are your overarching thoughts now that this latest chapter is finished?
"That's really for the fans to decide. I like to think I contributed a melodic angle that, by sheer luck, just happened to complement the legacy that Dave started."
What is your mindset as you prepare for your tour with Queensrÿche and Trauma?
"This is the first time that I'm touring anywhere outside of Japan since the pandemic, so I'm extremely excited about that. Getting in and out of Japan has just been next to impossible, and there have been almost no international touring acts coming to Japan, so now it's happening very slowly and gradually. So, the band and I are incredibly grateful that we can make this American tour a reality. We've toured three times here in Japan since the pandemic, so we're in shape, but there's only so much you can tour in a small country like Japan. So, we're ready to go."
How does playing in America differ compared with playing in Japan?
"The main thing that comes to mind is the fact that there are a lot more places to play. Most of the time, when bands come to Japan, they'll do three cities: Tokyo, Osaka, and Nagoya. And then maybe they'll do two more cities like Sendai, Fukuoka, and maybe one other city or something, but rarely more than six shows.
"I've been lucky. I did a 25-show tour a while ago, and we just did 17 cities a couple of months ago, so we've been fortunate to play in some out-of-the-way areas and the big cities. But there are so many more places to play in America, so we'll be there for something like 45 days."
Considering you're touring with Queensrÿche and Trauma, do you feel any pressure to play your more metal-oriented back catalog?
"For that style of music, I feel like no matter who we play with it really has zero influence on what we do. I feel more of a personal connection to those people because Queensrÿche came up around the same time I did. We started with the same roots and were in the same fanzines during a time when heavy metal was still not very popular. They came into their own, and I carved out my own path, so I would assume it would be more of a personal connection than a musical one. What we're doing now is kind of unrelated."
Both Dragon's Kiss and Cacophony's Go Off! turn 35 in 2023. Those two records are important to many people, and I assume you'll feature them in your set. How do you personally measure their importance?
"Both of those records were obviously important to me because they got me started. At that time, I was still completely broke and borderline homeless. Despite that, people were encouraging me and enjoying that music. That's what kept me from giving up, so to speak, even though giving up music was never really an option. But sometimes, it's really hard to continue when you have absolutely no resources to do so.
"So, I think that the reaction to those records at the time almost forced me to endure the lousy living conditions and made me feel like, 'OK, I might have to live on my friend's couch for a while. But at least I know that there are some people who are really enjoying what I'm doing. It's worth it to keep trying, and hopefully, someday, I'll be able to carve out some sort of a career.'"
Do you have any regrets or anything you would change?
"At that time, there was no support. It was strictly a labor of love. It was about me making the music that I wanted to play, and that would represent me at the time. I really have no regrets, but sonically, if I could do it all again, I would do it much differently. But every album is like a yearbook that shows where you were at that time. So, if I look at it that way, I wouldn't change a thing.
"We do some stuff from those albums, and it's fun because a couple of members of my band were not even born when those records were made. [Laughs] But each album is a step toward the next, and it's all constantly evolving.
"As for the people listening to it, they have their own preferences. They like this album, or they like that album. Each has different meanings for them, and ultimately, it's more exciting for me to have other people get into this stuff rather than me thinking about it too much."
Are there particular memories that stick out from the recording of those records?
"I just remember having no time to do a lot of things. I wanted to take more time to do Dragon's Kiss, but when I was recording Dragon's Kiss, Jason Becker was recording Perpetual Burn at the exact same time in the exact same studio. We were doing day shifts and night shifts, and we were both there for each other's records. So, that meant neither of us slept, and we were burning both ends of the candle, so to speak.
"Jason was doing his record and is recording one of his songs, and it was very complex, and the guitar part was so intricate that the engineer couldn't punch in and out of it. So, I went in there to do the punch ins and outs on the tape machine because Jason was just like, 'OK, punch right in the middle of this insane run, there's no way the engineers gonna know where to punch, but you will.'
"So, I was doing that, and Jason and I were in the zone working on this piece of music. We were both so tired, he was playing a ton, and I was punching in and out, and then, we both fell asleep at the same time as we were recording [Laughs]. We were knocked out, woke up, and realized we were still playing. So, many of those recordings were done in a trance. But that's how it was; there was no budget, and we had two weeks to do both records."
Are your memories of recording Go Off! similar?
"I remember when we did Go Off!, we went to a much better studio called Fantasy Studios in Berkeley. It was a place where a lot of big '60s hits were recorded, and it was a real, proper studio. So, recording there, I think we thought we had made it to some extent [Laughs]. Other than that, again, there were a lot of day and night shifts and a lot of intricate punching out."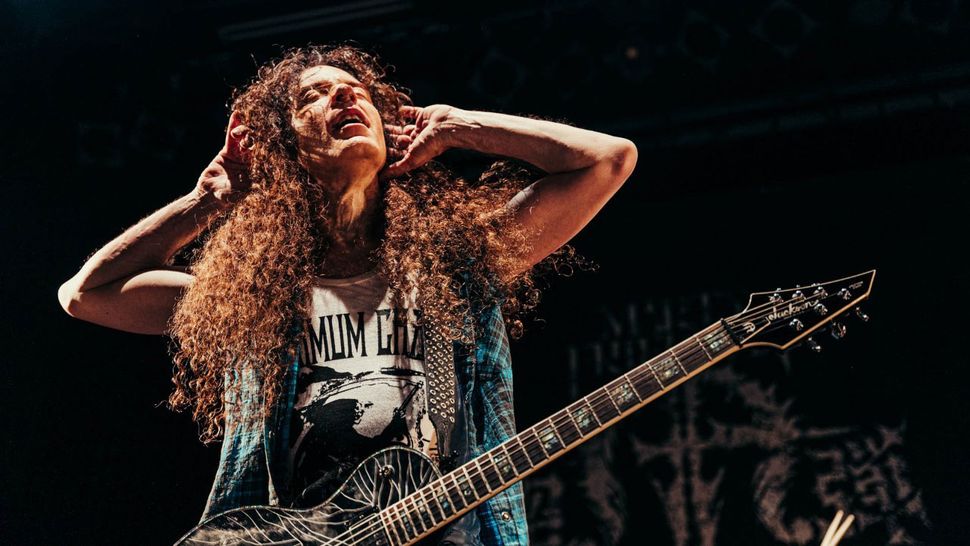 Is there one track or solo from your career that you consider your quintessential moment?
"It's funny, somebody just asked me this the other day, and I couldn't come up with an answer. I can't because I have the same criteria for everything I do. So, anything that you've heard on one of my records, or anything that has got my name on it, you can be sure that I'm completely signing off on it. If I recorded it, and it's out there, that reflects where I wanted to be at that time.
"When I record something and decide that it's done, that means I've said it in the best way I possibly can, and I let it go. So, it's not like I'm saying, 'Oh, man, I really got lucky on this one thing,' a lot of thought went into whatever recording you're hearing. So, to evade your question, and maybe it's kind of a boring answer, but really, nothing stands out. If it came out, that means that I was happy with it at that time, and I wanted you to hear it."
That's not a boring answer. If anything, it peels back the layers on your process and mindset as a guitarist.
"I think it makes sense. I mean, it's probably not uncommon because when people make a lot of music all the time, there's got to be some criteria, whether it be subliminal or something you consciously think about. You have to think, 'Do I really want people to hear this? Is this the best I can do? Is this how I want to represent myself?' So, if you pass those criteria, and you've got something that's got my stamp on it, then I'm pleased with that.
"Of course, if you go back and look at my older stuff, I wouldn't be as happy with that as I am with the stuff I'm doing now. Obviously, I've evolved, improved, and gotten better overall. I've gone way deeper musically, and things are much more meaningful than they might have been however many years ago. If you take something I recorded last week and compare it to something I did 30 years ago, chances are I'm gonna really like what I did last week, a million times better."
Is that to say you're not so enthused about your older music? How would you describe your evolution?
"At that time, I was equally enthused about that as I am with what I'm doing now, if that makes sense. The most important change is caring about how each note is shaped, stretched, cut off, shaken, or stirred. So, however I choose to interpret every single note has some choice going on where I think to myself, 'How do I want to do this?' There's no wasted space or real estate, particularly with my solos.
"If you have a solo, and it's like eight bars or 16 bars, that's pretty important real estate within the song. And real estate has value. If you put a value on each note and say, 'This is how I want this note to be at this time. This is how I want this run to be, and I want it to overlap this way,' if you think about those choices, your real estate will ultimately be more valuable.
"But at the same time, sometimes you don't think about it, and then you basically shit something out, and it comes out better than laboring over every little thing. Then it comes down to the listening process; you have to listen to something you shit out with as much care as something you've worked on for a long time. If you've played music for a long time, you can shit out some pretty good stuff. Of course, you can shit out some garbage as well [Laughs]."
Do you feel stream-of-consciousness writing is more effective than potentially overwrought writing?
"As long as you grow and evolve as a musician and an artist, your judgment becomes deeper and sharper. So, you can listen to something you've just done and say, 'Wow, I love this. I really love this because all these things happened.' That level of detail happens at the listening stage, not the planning stage. Because in the planning stage, you're just kind of stream of consciousness, shooting something out.
"That's probably the biggest thing that has evolved in my playing – those albums that you mentioned before, like Dragon's Kiss, and stuff like that, I had a lot to say, but I wanted to make sure I said it in an acceptable way and get that thing out. If I were doing the same material now, I would give each track a little more tender loving care.
"I think more about things like, 'How does it start? When does the not cut off?' A lot of times, notes are cut off earlier than they should be. Little things like connecting notes, lengthening notes, and effectively shortening notes are important details that are seemingly extremely tiny."
What pedals and amps are you going with for the upcoming tour?
"The same as I've been using, no changes. I've been using all my signature stuff for the last few tours. So, that's my signature guitar, signature pickups, and signature amp. I'm very fortunate that great companies like Jackson, EMG, and ENGL have provided me with some excellent signature gear that I'm proud to use. Honestly, my stuff is full-on workhorses, and they've been great for me.
"The only effects pedal I really use is the Maxon AF-9 Auto Filter. Other than that, I'm not really into effects; I like to keep it pretty simple when it comes to that."
What makes your Jackson MF-1 the perfect guitar for you?
"Well, the first thing is looks [Laughs]. It was modeled after a very famous guitar that we all know, so I was going for that shape. I don't know… I think it just looks good on everybody and anybody. I used to have an Explorer-shaped signature model, and while I was lucky it worked for my body type, that was kind of a pointy guitar, and it doesn't work for everybody.
"I mean, let's call a spade a spade – my signature model is shaped like a Les Paul – and that shape looks good on everybody. But, for example, a crazy shape like a Dimebag Darrell's Dean guitar that looked fantastic on him, but if I had one of those things, I'd look like a complete dork [Laughs]. So, there's just something about those fancy shapes… they fit certain people and their personalities, but not mine.
"But there's something about the Les Paul that, for me, just works. If you look at it in that case, it looks drab. It looks dull, unlike those pointy guitars. But put a Les Paul on your body, and suddenly, you'll look really cool, even if you don't play guitar. And I noticed that years ago when I'd look at pictures of people playing Les Pauls, and that's when I realized that the Les Paul is an excellent fit for my body type."
So, it's more of an aesthetic choice than anything else, then?
"In a way, yes. A lot of thought went into making it an accessory and something that just looked really cool. But the thing that made it my own was all of the details: the building of the guitar, the neck, the frets, the tuners, and making it a guitar that was a real workhorse and would stay in tune under all sorts of conditions. All those things are the kind of things that I can put my name on. But the shape is something I borrowed from the best, or should I say – I stole from the best [Laughs]."
Are you working on any new music?
"I've been working on my next album, which is still in pre-production. I've got about half of the basic tracks done. I'm really, really excited about it. But I'm equally excited about not having a deadline. I started working on it last year, and honestly, it's kind of an extravagant piece of music, so not having that deadline has been great.
"When I did my Wall of Sound album, I found out that the reason it came out so good, in my opinion, was that I spent forever on the demos and lived with the music. So, when it came time to record, I did the whole album and recorded all the guitars in nine days. That was insane for that much guitar work, but I was just so in tune with what I was doing. I enjoyed the process.
"So, I've been taking my time while working on this new record, and it will probably come out by the end of 2023 or sometime in 2024. But it gets harder and harder every time because I put more and more work into each album. With that, the bar gets raised higher every time, but yeah, I'm working on it. I'm enjoying it. I'm liking it."
Marty Friedman tours the USA throughout March and April 2023 – head over to MartyFriedman.com for full dates.