In the market for insanely cheap music gear but you don't want to wait until the Black Friday guitar deals kick off? Well, you may want to head over to Thomann. The German music retail giant is currently celebrating a rather large milestone for their own brand, Harley Benton, which just turned 25! To mark the occasion and honor the 25th anniversary, Thomann is currently offering 25% off 25 products for 25 days.
Now, if you routinely follow our deals coverage, you may have noticed we covered a very similar sale a few weeks back. Well, as this sales event was so popular, Thomann has decided to relaunch it, this time with a new range of popular guitars, pedals, basses and amps.
It's worth noting that this piece is really aimed at Guitar World's UK and Europe readers, but don't worry if you are on the other side of the pond, as there is still time to bag a deal in Sweetwater's Guitar Month sale, which runs until the 30th.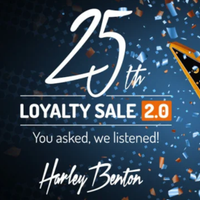 Harley Benton 25th Loyalty Sale: 25% off at Thomann
For the next 25 days, you can score an impressive 25% off a wide range of Harley Benton guitars, effects pedals and basses. There really is something for everyone here, from hard-rocking electrics to blues-ready semi-hollows and thunderous basses. The sale ends on 14 October, so don't hang about.
For those not in the know, Harley Benton is Thomann's own brand, and they manufacture a large number of low-cost alternatives to larger companies such as Fender, Gibson, PRS, Jackson, and Ibanez.
Harley Benton doesn't just make electric guitars, they also produce effects pedals, amplifiers, bass guitars, acoustics, and even accessories – and all at very reasonable prices, too.
While there are hundreds of Harley Benton branded products, this sale only includes 25 different items, but don't worry, the selection is pretty diverse, with what we consider to be the best Harley Benton guitars making an appearance.
For example, the modern powerhouse that is the Harley Benton Fusion-T HH HT Roasted FNT is only £225, while the drop-dead gorgeous Harley Benton DC-60 Junior HPM is an insane £103 and the punk rock-ready Harley Benton MR-Classic is a mere £187!
That's just a taste of what is on offer so we suggest you take a look for yourself. If you fancy looking beyond Harley Benton products, then be sure to check out our Deals of the Week page for more offers and savings.