As anyone who has seen me perform live will attest, I throw some serious shapes onstage. The riffs take over and I'm ducking and diving all over the place. Inevitably, my guitar cable gets in the way. And when things get really heavy, I'm at serious risk of landing face-first on my pedalboard.
That's why I've been considering a guitar wireless system – so naturally, that was my first port of call this Cyber Monday. And my eye was immediately drawn to a tasty deal on the latest version of our top-rated guitar wireless system, the Line 6 Relay G10SII, which has had $40 slashed off the asking price at Sweetwater.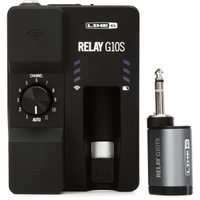 Line 6 Relay G10SII wireless guitar system: $269 $229
Our favorite guitar wireless system just got even better, thanks to this $40 discount over at Sweetwater. This neat package lets you wander up to 130 feet away from your pedalboard, and delivers 24-bit audio. Plus, if you miss the sound of your lead, you have the option of emulating the sound of a 10-foot or 30-foot cable.
If you can't stretch that far, Xvive's well-respected U2 package could be the guitar wireless system you're looking for (arf).
The U2 is one of the most compact units on the market and has had $46.47 surgically removed from its price tag over at Sweetwater.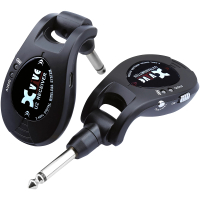 Xvive U2 wireless guitar system: $154.90 $108.43
One of the first compact guitar wireless systems on the market, the U2 does away with the bodypacks, pedal units and wires, leaving you with a full-frequency 20Hz–20kHz response and just 6ms of latency. Its rechargeable batteries last up to five hours per charge, which should be more than enough for even the most indulgent of prog sets, and it's now $46.47 off at Sweetwater.
But my biggest discovery this Cyber Monday? Guitar wireless systems are available for cheap… Real cheap.
And it doesn't get much more affordable than the Joyo JW-03, which is somehow 20% less than its regular price of $39.99, bringing it down to just $31.99 for Amazon Prime members. Which is frankly ridiculous.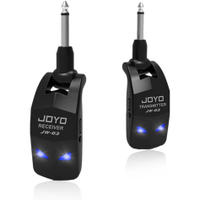 Joyo JW-03 wireless guitar system: $39.99 $31.99
How anyone makes a guitar wireless system this cheap we'll never know, but you will struggle to find a better-value one this Cyber Monday. Crucially, the Joyo JW-03 is an updated version of one of our favorite cheap wireless guitar systems. It works on the 5.8GHz frequency band rather than the more commonly used 2.4GHz – that's a pro if you're encountering too many other devices on the 2.4GHz network, and is really only a downside if you're on tour, as it's not used all around the world. But as a first wireless system to mess around with at home and national gigs, this is an absolute no-brainer, with 20% off at Amazon.
For more of this year's greatest offers, check out our guide to the hottest Cyber Monday guitar deals.