Quick menu
We guitarists spend a lot of time and money obsessing over our guitars, pedals, and amplifiers, so why don't we put as much thought into the thing that connects them all together? While it's not the most exciting aspect of being a guitar player, the best guitar cables ensure you have the best signal transfer and thus, the best tone possible.
Cheaper guitar cables have a habit of introducing monophonic noise into your painstakingly crafted tone and often fail when you least need them to. Preventing any weak links in your signal chain is good practice for any guitarist, and will spare you the ignominy of hunching over your pedalboard mid-set, trying to find the offending cable that's causing your guitar to cut out.
We've included some in-depth buying advice at the end of this guide, from our team of expert writers so if you'd like to read more about the best guitar cables and what to know before buying, it's worth checking out. If you just want to get straight to the products, keep scrolling.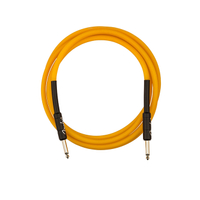 Fender Pro Series Cables: from $15
It really is worth investing in high quality cables to make your signal chain as good as it can be, and Fender's Pro Series cables are a very smart option indeed. Now, you can get up to 70% off such cables, which are available in three glow-in-the-dark finishes and either 10ft or 18.6ft lengths.
Best guitar cables: Product guide
Best you can buy right now
1. Mogami Gold Series guitar cable
Features: Oxygen-free copper conductor, carbon-impregnated PVC, Neutrik black and gold plugs, ultra-high density spiral shield, conductive polymer sub-shield, lifetime warranty, 130pF/m capacitance
Connection: 1/4" straight-to-straight/-to-right-angle
Length: 3-25ft
+ No unwanted noise
+ Lifetime warranty
+ Variety of lengths
- Not much, but is the gold necessary?
The Mogami Gold Series guitar cable has an ultra-high density (UHD) spiral shield and conductive polymer sub-shield to help kill noise and, in our experience, preserve that signal. A conductive carbon-impregnated PVC layer will stop all the sort of microphonic pop that you can get from handling cheaper guitar cables.
The copper core conductor might be heavy gauge but the Gold Series is still easy to handle and easy to pack away. Gigging musicians might wish to upgrade to the Gold Series Silent, which use Neutrik silent plugs so you can change your instrument without having to switch your amp off.
This cable comes with a "no excuses" lifetime warranty and is offered in a wide variety of lengths. Perhaps the Gold Series cable is a little OTT for some, but if you want premium quality, it doesn't get much better.
Best for connection
2. D'Addario Planet Waves American Stage
Features: 22 gauge oxygen-free copper twisted pair conductors, 95 percent tinned copper braid shielding, Geo-Tip plugs, approx 92pF/m capacitance
Connection: 1/4" straight-to-straight/-right-angle
Length: 10-30ft
+ Geo-Tip plugs for enhanced connection
+Low capacitance
- Lack of outer jacket options
- Not ideal if you want something premium
Planet Waves' patented Geo-Tip plugs are a big draw with this best guitar cable entrant. They have a slightly flattened tip and longer shield, made by Neutrik in Liechtenstein to Planet Wave's spec and no matter what jack is fitted in your guitar, these should fit nice and snug with no crackle or pop. That tinned-copper braid should stop rogue frequencies wrecking your signal too.
The HelioFused soldering is another feature unique to Planet Waves and this 180-degree inline connection helps make the American Stage a tough, durable and stage-ready cable.
They are also affordable and available pretty much anywhere, with right-angled options.
Best DIY cable option
3. George L's .155 guitar cable
Features: Solder-less connection, George L's .155 connectors, high-density braided shielding, 67pF/m capacitance
Connection: 1/4" straight-to-straight/-right-angle
Length: 10-20ft
+ Low capacitance
+ Lightweight and tough
- You want one of George's build-your-own
- Thin cables are not everyone's bag
George Lewis is famous for selling his .155 cable in bulk so that guitarists can take advantage of their solder-less connector design and build their own cable. His cables are also famous for their ultra-low capacity. Eric Johnson swears by them. You would be hard pushed to find another guitar cable on the market with a lower capacitance per meter. The frequency response is excellent and your signal is well shielded.
Readymade, these come out the box with George L's solder-less .155 connections and despite the vintage feel of the low-diameter cable - and its tendency to coil a little - they feel like you could tow a trailer with them.
For those who find the .155 too thin, the .255 offers an identical sonic performance but with thicker and heavier cable.
Best for quality & value
Features: Studio-grade, oxygen-free copper core wire, 24K gold-plated contacts, Heavy-duty braided shield
Connection: 1/4" straight-to-straight/-right-angle
Length: 1-25ft

+ Good range of lengths
+ Value for money
+ Durable
- Not much
The Boss instrument cables offer a great blend of quality and affordability. They're made from decent materials - as soon as you get your hands on it, you can feel quality straight away, and they don't seem to take much away from your inherent tone.
They feature heavy duty framed shielding so you're protected from unwanted microphonic noise, and the jacks feel really well connected to the cable. The material they're made from also makes coiling them up after use really easy, so they'll last a long time if looked after.
There's a range of lengths depending on what you need, plus there are angled jack options too. From our experience, they're certainly one of the best guitar cables for the money, but if you want something super fancy, check out their premium range.
Best for road dogs
5. Ernie Ball Braided guitar cable
Features: Dual conducters, tangle resistant, braided jacket exterior, 99.95% oxygen-free copper to resist corrosion, dual-shielded, dual-conductor design
Connection: 1/4" straight-to-straight/-right-angle
Length: 10-25ft
+ Durable
+ Tangle-resistant
+ Noise free design
- Nothing shorter than 10ft
All of Ernie Ball's guitar cables are built to last, but these braided models are designed to be particularly robust, and they're tangle-resistant too - ideal for guitarists who spend a lot of time on the road, or who prefer to stuff their cable straight into the gig bag rather than coil it carefully.
Inside each cable, dual-conductors help ensure your guitar tones are clear. We discovered crisp highs, tight mids and rich harmonics throughout testing, while internals are shielded well to reduce noise and preserve the signal.
When it comes to lengths, there's not loads of choice, but EB's braided cables are available in 10, 18 and 25ft varieties.
Best for Gilmour fans
6. Evidence Audio Lyric HG guitar cable
Features: dual solidcore made of refined IGL copper, braided copper shielding and a tough nylon/rubber outer
Connection: 1/4″ phone plug on the input side and a straight plug on the output
Length: 10-20-feet
+ Noticeably purer signal path
+ Incredibly robust
+ Expertly crafted
- Very expensive
There's a good reason why David Gilmour, Jeff Beck and John Mayer all favor The Lyric – the design features a dual solidcore made of refined IGL copper, delivering a noticeably purer signal path and tone than a stock multi-strand cable.
By the firm's admission, the solid-core format means it's a little stiffer, but with braided copper shielding and a tough nylon/rubber outer, it should be pleasuring your audience's ears for years to come.
The main downside is the price. We know that the Lyric HG is an incredibly expensive option, but we found during testing that it actually is worth the money. The quality is second to none - and if it's good enough for John Mayer then we won't complain.
Best for vintage heads
7. GLS Audio Tweed guitar cable
Features: Triple-strain relief, oxygen-free copper conductor, oxygen-free copper shielding, conductive PVC shield, plastic conductive carbon shield, approx 125pF/m capacitance, brown or black
Connection: 1/4" straight-to-straight/-right-angle
Length: 6-20ft
+ Low capacitance
+ Clear and bright tone
- If tweed ain't your thing
The list price for these guitar cables at various lengths sits around 60 bucks so there is a whole lot to be saved from ordering from GLS direct. The tweed outer jacket looks great in black, impeccable in brown, and the feel of the GLS Audio Tweed is excellent; it coils nicely, is durable, and for the vintage enthusiast this might be too hard to resist.
The cable is double-shielded and low capacitance, so again it should be quiet enough without choking the high-end. There is no price difference between straight-to-straight and straight-to-right angle formats.
During testing, we found that this GLS Audio cable delivers a thoroughly accurate and broad-sounding recreation of your tone. For around 60 bucks, the performance is impressive compared to other brands at that price.
Best for warranty
8. Fender Deluxe Instrument Cable
Features: 24K gold-plated connectors, 20 AWG 99.99 percent oxygen-free copper conductor, 95 per cent braided oxygen-free copper shielding, molded plugs w/strain relief, yellow or black tweed outer jacket, hook-and-loop cable tie
Connection: 1/4" straight-to-straight/right-angle
Length: 5-25ft
+ Good value, lifetime warranty
+ Free cable tie
- You have money to burn
- Tweed ain't your thing
Fender's Deluxe Series might fly under the radar when it comes to guitar cables, but with a lifetime warranty and excellent construction they offer a high-performance product at a very competitive price.
The custom-molded plugs have strain-relief in-built and make for a solid connection, while the Deluxe Series' shielding holds its own against more expensive cables when it comes to killing extraneous noise.
They are a beefy 8mm diameter but coil nicely and come with a cable tie to encourage you to look after it. To our ears these are bright and transparent – the 10-foot cable especially – and certainly feel like a cable durable enough for the road. A worthy addition to our best guitar cables buyer's guide.
Best British brand
9. Orange Crush instrument cable
Features: high-grade oxygen free copper, nickel-plated 1/4-inch jacks, multiple shielding layers
Connection: 1/4″ angles to straight and straight to straight
Length: 10-20-feet
+ You'll never lose one on stage
+ Quality components
+ Range of lengths
- Too bright for some
The British amp giant has a respected sideline in cables, using high-grade oxygen free copper for improved signal clarity and articulation, nickel-plated 1/4-inch jacks for corrosion resistance, and multiple shielding layers to kill the dreaded crackle and hum of electromagnetic interference.
They might have a citrus finish, but Orange Crush cables are no novelty item, with heavy-duty features including a heat-shrunk outer sleeve that guards the inner cable and terminals from the rigours of the road.
Best handmade cable
10. PRS Signature Series guitar cable
Features: Oxygen-free copper core, dual screens of conductive and close-lapped copper, hermetically sealed reed switch connector, silent plugs an option
Connection: 1/4" straight-to-straight/-right-angle
Length: 5-25ft
+ Handmade, premium quality
+ Pure, bright signal
- Another skinny cable
- Hard to find the 5-foot option in stock
Paul Reed Smith swears by these cables, which are handmade in London by Van Damme Cabling, but of course he has to say that. What's more impressive is Van Damme's client list, which includes the likes of the Foo Fighters, Radiohead and Abbey Road Studios.
PRS and Van Damme play the exact spec close to their chest, so we can't say for sure what the capacitance is other than it is "carefully tuned", but we would interpret that as low, as these are bright, crystal-clear guitar cables that make all the difference in carrying those mids and highs.
They are lightweight, low-diameter, and the option of silent plugs allows for hot-swapping – a 25-foot cable with silent plugs will set you back 90 bucks, which is decent value for a pro-quality, road-worthy cable. There is no crinkling, no hint of microphonic pop, just a pure signal. Which is exactly what you should expect from a premium cable. And there is no extra charge for straight-to-right-angle options.
Best coiled cable
11. Vox Premium Vintage Coil
Connection: 1x 1/4" straight, 1x 1/4" right-angle jack
Length: 30ft (9m)
+ Epic vintage vibe
+ High quality cable
+ Great build quality
- Coiled cables look too funky
For those who want to harness the vintage-inspired aspects of their playing, there's arguably nothing more fitting than a killer coiled guitar cable from the folks at Vox. Although the look of these cables is next-level, they often get their fair share of flack from guitarists and so-called audiophiles, supposedly for their inferior sound quality. This cable from Vox proves those people wrong.
It's all down to the wire which Vox uses when putting together the Premium Vintage Coiled cable. It's made from 99.9% purity oxygen-free copper, which delivers a really tasteful, pronounced mid-range frequency which helps to provide the vintage vibe in droves.
It's well built, even using two separate shields to improve strength and reduce extra noise and interference. Granted, the look does split opinion – but if you're a player with a vintage urge and want the look, then there's realistically nothing better.
Best for durability
12. Monster Prolink Rock cable
Features: Carbon-Infused Polymer, heavy-duty 24k gold connectors, dense braided shield, Duraflex protective jacket
Connection: 1/4" straight-to-straight/-right-angle
Length: 3-21ft
+ Exceptional shielding
+ Rugged design and tactile
- Some might prefer a brighter cable
Here is another favorite, no doubt because the likes of Slash and Zakk Wylde are fans of Monster's Pro Studio series, but also because these are some of the best guitar cables for build quality. The 24k gold contacts and construction of the signature Monster turbine plugs are a little OTT with the bling, but there's no denying these are durable cables.
The clever design means that you don't lose any quick transients or top end, and the dense braided shield ensures that you don't encounter any unwanted hum or microphonic noise. Even when handling and moving around, the Carbon-Infused Polymer makes sure that you don't hear it through your amp.
These cables aren't cheap but they're not crazy expensive either, when you consider how great they are. If you're looking for high quality, durable cables, then check them out.
Best guitar cables: Buying advice
How long should a guitar cable last?
The best guitar cables out there will be durable - if you look after them, you can expect to get a good number of years' worth of use out of them. When you pay more for a good quality lead, then it's going to be well made, using quality parts. Things to look out for are the jack plugs and the material used for the actual cable part. Shielding around the core of the cable is good also, as this can help protect from unwanted noise when the cable is moved.
What is cable capacitance?
The cable can also have an affect on your tone. All cables have a certain capacitance - that is they hold a certain amount of electrical charge. As you might think, you don't really want a cable to hold charge - you want your signal to flow through it, into your pedals and amp. In this scenario, a higher capacitance can cause a roll off of the higher end frequencies; so essentially you'll hear less treble in your tone. So, low capacitance cables mean that you get a fuller frequency response. The difference might not be huge, but it's there.
What length guitar cable do I need?
When looking for the best guitar cable, it's also worth buying the shortest length that you can get away with. Like with high capacitance, longer cables can roll off some of your top end. Of course, it's also worth thinking about the sound of your guitar and amp - you might perhaps want to lose some of those higher treble frequencies, though normally, shorter, low capacitance cables are the way to go.
How much should I spend on a guitar cable?
Like with many things in life, the more you pay, the better the product you end up with. Cheap budget cables can be alluring when you're about to part with your cash, but, as the old saying goes - buy cheap, buy twice. Chances are, super budget cables will be noisy, will detract from your tone, and will break much sooner. The best guitar cables will keep the sound of your rig intact and will stand up to the rigours of everyday guitar playing.
What are guitar cables made of?
Different materials are used by various manufacturers, but copper is usually the core of the cable, and whilst you'll see gold plated jack plugs on many premium cables, they don't have much, if any affect on your tone, though they won't corrode.
Are guitar cables balanced?
Guitar cables are unbalanced, which means they're very prone to outside interference and microphonic noise. It's partly why we recommend getting good quality cables, particularly where a complex pedalboard is in use.
Guitar leads are mono, sending one copy of your signal along it's length. Because they only send one signal, they pick extraneous noise along the way. A balanced cable sends two copies of your signal, with one inverted to cancel out the noise it picks up along the way.
Unfortunately as guitar players, we cannot use balanced cables as they are typically incompatible with the inputs on our guitar amplifiers. Our amps require a TS connector to work, whereas balanced cables carry a TRS connector.
You'd usually find balanced cables in use with other type of gear like synthesizers, studio monitors, PA systems, microphones, and many more. They're also recommended where you have a cable run of more than 25-feet.
Can guitar cables cause buzz?
This is a difficult one to answer because any component in your signal chain can cause buzz. Even electrical items around your setup can potentially cause buzzing, so while we wouldn't automatically point towards a guitar cable as the source of buzz - it might well be causing the issue.
The best way to detect the source of noise is to test each component individually. It takes time, but is pretty much the only way you'll get to the bottom of any unwanted noise. You may also need to section things off, as buzzing can build up over the course of a couple of pedals or cables.
Make sure to check any electrical items around where you play too - things like computer monitors or mobile phones - as these can cause unwanted buzzing in your signal chain
How to look after you guitar cables
You can trust Guitar World Our expert reviewers spend hours testing and comparing guitar products so you can choose the best for you. Find out more about how we test.
Taking good care of your cables is really important too - there's no point spending a load of money on the best guitar cables, just to then treat them badly. Coil them properly when they're not in use, and try to be wary of standing on them (not always easy when playing on small stages). Things like making sure your amp or pedalboard isn't trapping them might seem an obvious step to take, but this has certainly led to the demise of many cables over time!
How we choose the best guitar cables for this guide
Here at Guitar World, we are experts in our field, with many years of playing, creating and product testing between us. We live and breathe everything guitar gear related, and we draw on this knowledge and experience of using products in live, recording and rehearsal scenarios when selecting the products for our guides.
When choosing what we believe to be the best guitar cables available right now, we combine our hands-on experience, user reviews and testimonies and engage in lengthy discussions with our editorial colleagues to reach a consensus about the top products in any given category.
First and foremost, we are guitarists, and we want other players to find the right product for them. So we take into careful consideration everything from budget to feature set, ease of use and durability to come up with a list of what we can safely say are the best guitar cables on the market right now.
Find out more about how we make our recommendations, how we test each of the products in our buyer's guides and our review policy.
Related buyer's guide