The used guitar amp market has never been bigger, for the simple reason that there are so many great options out there. Players can often find themselves outgrowing a particular model as they progress, meaning the pre-owned market can throw up some gems if you know what you're looking for.
Home practice amps need to be versatile, they need to cover lots of bases tonally, and they need to sound great. They'll never take the place of a raging 100-watt stack, but then they're not meant to. Most importantly, however, they need to encourage you to keep using them hour after hour, and day after day. In this guide we'll highlight some great guitar amps which are perfect for home practice.
Compared to some of the names on this list, the Boss Katana 50 is the new kid at school. In many ways, however, it is one of the best equipped, most versatile guitar amps on the market today. As well as a huge selection of amazing tones, with everything from glassy cleans to raging gain, it also offers a few neat extras designed to elevate it above a simple practice amp. We like the way it connects up to a smartphone app to unlock deeper control over the parameters and settings. We love the way it can connect directly to a computer or laptop for real-time recording. Most of all, we love its immediacy; within minutes of plugging in you will find a sound that works for you, so you can concentrate on your playing.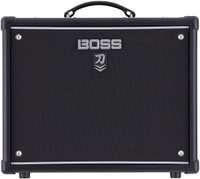 (opens in new tab)
While there are plenty of large, powerful home practice amps that boast enough grunt to make them stage-ready, there are other practice amps which boast no such ambitions. The Yamaha THR series is one such breed of small-scale practice amp, designed purely to act as your go-to home amp for playing, practicing and recording. Despite their small size, however, there is plenty going on tonally with the THR amps. A range of different tones, with everything from acoustic simulation to high gain, is available along with a selection of effects to help color the sound. It might prefer its home comforts, but the Yamaha THR line is certainly capable of great things.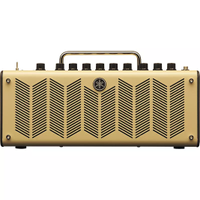 (opens in new tab)
The Blackstar ID:Core line is among the most inexpensive on this list, but don't confuse a low price with a lack of quality. Indeed, this diminutive range of home practice amps has much the same skill set as you'd expect, yet also finds a way to offer up some unique tricks of its own. We liked the patented ISF function, which makes sweeping for a great tone simple and intuitive. We're also fond of the stereo playback; rather than using one larger speaker, the ID:Core range tends to favour two smaller ones, each pointed at a slightly different angle to give the feel of a true stereo field.
Everything we've covered up to now has been multi-functional, versatile solid-state and modeling amps. More experienced players, on the other hand, may be looking for something with a touch more class about it. The Fender Blues Junior range of small tube amps has been around for a while, and at just 15 watts they can even cover small gigs and full band rehearsals. The Blues Junior doesn't do mega gain, and it doesn't offer a huge variety of tones, but as a proper grown-up amplifier with tonnes of that classic Fender vibe, it's hard not to like. And that spring reverb...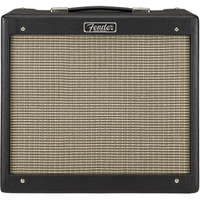 (opens in new tab)
There's every chance you don't have the space to cater for both a home practice amp and a larger performance amp. That doesn't mean you should sacrifice on your sound though, right? The Marshall DSL - Dual Super Lead - range is perhaps more synonymous with those enormous walls of sound you see and hear at shows, but look a bit further down the range and you'll see a neat selection of smaller models too. There's both a five watt and a one watt version, which ensure you can still access those meaty, bold Marshall tones you're used to, only without breaking the windows or annoying the neighbors.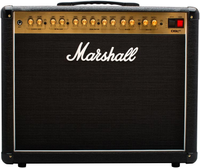 (opens in new tab)
British amp brand Orange is one of the older names we've included here. Its famous old tube amps have formed the backbone of rock, blues and heavier styles of music since the 1960s, and it counts Fleetwood Mac, Slipknot and, strangely, Stevie Wonder among its fans. While a 'real' Orange tube amp can cost a fair stack, its keenly-priced Crush range caters for home practice brilliantly well. These solid-state amps may lack some of the features and functionality of other brands, but for pure tone they are pretty hard to beat.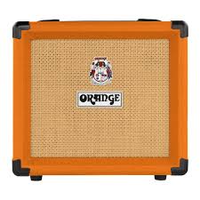 (opens in new tab)
Continuing the theme of specialist amps which aren't trying to be all things to all players, the Marshall Origin series is well worth a look for players of more classic rock styles. Aside from its gloriously retro appearance, the Origin amps serve up a single channel, with a small amount of tone-shaping available onboard. We've found they make superb amps for fans of guitar pedals, where the manageable levels of gain and grit can be easily tamed so they don't impact your effects chain too much. If the amp is purely for home practice, with no pressure to double up as a gigging amp, then the five watt combo version of the Marshall Origin is well worth a look.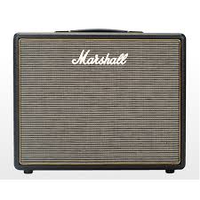 (opens in new tab)
Conclusion
Hopefully this guide has proven home practice amp doesn't need to mean small, nasty-sounding black boxes which will suck the life out of your sound. Far from it; there are loads of superb home practice amps available for players of every style and genre. Some even double up as recording hubs, which make them amazing tools for home studio users to have on hand. As always, our advice is to work out what you're looking for the amp to achieve and create your shortlist from there.