Designed to harness the power of a tube amp and make it manageable for the modern musician, the award-winning OX Amp Top Box from Universal Audio just got an incredible $300 slashed off the retail price (opens in new tab) over at Guitar Center. This premium studio tool lets you use your tube amp at any volume with top-quality microphone, speaker, and cabinet emulations, all with just the twist of a few knobs.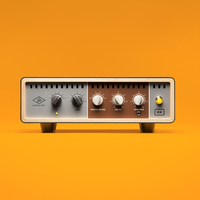 (opens in new tab)
UA Ox Amp Top Box: Was $1,499, now $1,199 (opens in new tab)
With a massive 20% off the regular price, the Ox Amp Top Box is a fantastic deal for the guitarist who needs to record great guitar tones quickly. This powerful bit of kit enables you to dial in your perfect recording tone in a matter of seconds, no mic placement or room treatment required.
The Universal Audio OX Amp Top Box is a reactive load box, which replaces your amplifier's speaker and reacts much the same way. Just like your guitar cabinet, it will take 4, 8, and 16ohm loads, responding to your playing dynamics, the guitar pedals you put in front of it, as well as reacting to the characteristics of whichever amplifier you choose to plug into it. Playing through the OX Amp Top Box feels scarily close to the real deal and it's a game-changer for guitarists who want to record their tube amps at home.
You can also utilize it as a pure attenuator via the speaker out, allowing you to crank your 100-watt tube head to maximum volume and use all of that rich, harmonic saturation without annoying the house three doors down. Unlike some other load boxes, there's no chance of it getting fizzy on you either, as clever tech within the OX uses variable EQ to ensure you always get a natural sound out of it, no matter what volume you set it to.
As well as a full complement of 22 studio-quality cabinet speaker models you get a great selection of classic microphones you can use to rig up your virtual cab, loading two simultaneously so you can do the classic dynamic and condenser microphone combination. You can even customize the simulated room, all the way down to removing the rug from underneath the emulated cabinet to adjust the sound, so there's plenty of scope for getting great guitar tones straight into your DAW.
If that wasn't enough for you, there's also the ability to run four simultaneous studio effects, with EQ and reverb and a whole host of connectivity on the back panel that's handily printed upside down so you can read it as you lean over. This makes the OX Amp Top Box an incredible tool for the home studio or the stage.
This offer is available until March 31st, so you've got a limited time to grab yourself a deal on this amazing bit of kit.