Headstock snobs, leave your preconceptions at the door because Guitar Center is offering up to $250 on selected Epiphone guitars for a very limited time in its up to 40% off Black Friday sale, and some of the most desirable models and options are on the menu. There's only 24 hour left of this sale, so you'll need to act fast if you see something you like. And if you need some guidance, we've picked our personal favorites below.
If you've tried an Epiphone guitar recently, you'll know that the build quality, finishing, playability and tone are ridiculously good for the money. To the point where we'd challenge even the most grizzled tonehound to differentiate some models from their US-made Gibson counterparts.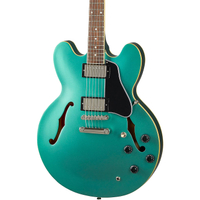 Don't believe us? Turn your attention to the recent Adam Jones Les Paul Custom, or the Joe Bonamassa Lazarus Les Paul, perhaps you're more a fan of the big-body, semi-acoustic designs? Step toward the Noel Gallagher Riviera for the proof.
Of course, those are all signature models. But for its pre-Black Friday event, Guitar Center has selected some choice models that will appeal to fans of all of those guitars and more, with Les Pauls, ES-335s, and even a cutaway-electro version of the archetype singer-songwriter guitar, the Hummingbird all reduced by a hefty amount – in some cases, you'll save up to 25% off the regular price. But which guitars in the sale do we rate?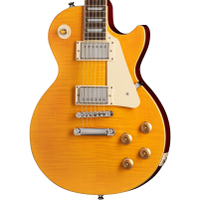 Epiphone 1959 Les Paul Standard: was $999, now $749
The Holy Grail of Les Pauls – a 1959 Les Paul Standard. Now, we all know that we're more likely to come across a set of gold hen's grills than play – let alone afford or own – a genuine '59 Burst. Coming in at around one thousand times cheaper than a 'real' '59, though, is this incredible replica from Epiphone, currently $749 (was $999). It's got all the right ingredients for a killer blues/classic rock machine, starting with the building blocks of a mahogany body and mahogany neck. Plus, it's equipped with Gibson USA Burstbucker 2 and 3 pickups (which alone would set you back over $350) and a AAA flame maple veneer in the Slash-approved Lemon Burst finish. Don't have a bite on this one, as we can't see this deal being replicated – not least, because it's literally half the price of the newly-launched Epiphone Greeny.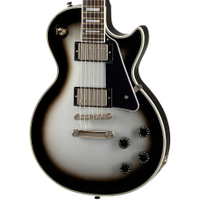 Epiphone Les Paul Custom Silverburst: $799, now $599
Want to cop some of Tool guitarist Adam Jones' vibe without the signature artwork and appointments? Silverburst Les Paul Customs are another sought-after gem in the Gibson mine, and this Epiphone version delivers the hard-rocking crown jewels with a tasty $200 saving, down to $599 from $799. Built on the Les Paul foundation of mahogany for the body and neck, the Epiphone Les Paul Custom also features a rich ebony fretboard, block inlays and that iconic Split-Diamond inlay on the headstock.
The electronics come in the form of two sturdy Epiphone ProBuckers, and we get the classic control layout of 2x volume, 2x tone and a three-position switch. Keep it stock, or mod it to your heart's content, but if you're a fan of Silverburst Les Paul Customs, this is the best deal you're going to see this year.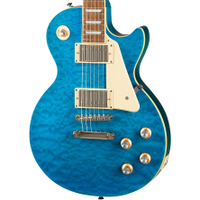 Epiphone Les Paul Standard '60s Quilt Top: $699 / $519
This Quilt Top Les Paul in Translucent Blue treads a similar path to Gibson's Custom Color series, pairing traditional specs with a distinctly modern finish. As such, you get an eye-catching AA Quilt Maple top in this vibrant blue hue, but it's loaded with some premium vintage-style components, including a pair of PAF-inspired ProBucker humbuckers, Wilkinson tuners, a LockTone ABR tune-o-matic bridge, stopbar tailpiece and Graph Tech nut. Currently, you can shave $180 off the price, over at Guitar Center.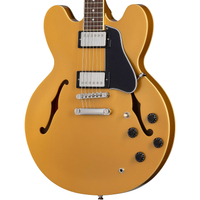 Epiphone ES-335 Traditional Pro: was $599, now $449
What do you call a guitar that has you covered for everything from jazz to blues, indie to classic rock and more? Easy, it's the ES-335. Check out the ES-335 Traditional Pro. It's on sale for $449 (down from $599) with a choice of Inverness Green, or Metallic Gold. You'll get a double-bound, 5-ply maple body, a mahogany neck (with the classic dot fretboard markers) and a pair of Alnico Classic Pro humbuckers. Bag yourself a slice of semi-hollow royalty for less before they're gone.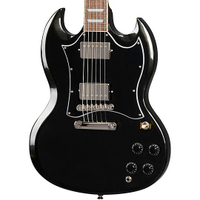 Epiphone SG Traditional Pro: was $499, now $379
A contemporary take on Gibson's classic rock machine. The Traditional Pro has a speedy SlimTaper neck (with rolled fretboard edges), while the pair of Alnico Classic Pro humbuckers are wired to a push-pull volume pot, opening up coil-splitting tone and phase-switched options. Elsewhere, it keeps the traditional mahogany body and neck combo with a rock solid LockTone tune-o-matic bridge and stopbar tailpiece. Here it's back in Graphite Black and Metallic Gold, knocking $120 off the list price, in the process.
Still on the lookout for a bargain? Check out more of our favorite Black Friday guitar deals.