Line 6 has added all-new amp, cab and effects models to its family of Helix products in yet another generously feature-packed firmware update.
For reference, the free Helix 3.70 firmware is the 18th update to be introduced since the inception of the industry-leading modeling platform, and is yet further evidence of Line 6's commitment to ensuring its HX products get even better with age.
As a top down view, 3.70 debuts eight guitar amps, two bass amps, seven guitar cabs and two bass cabs, as well as five new effects models. Like usual, there is a blend of Line 6 original sims and ones inspired by popular analog gear, with the update finally ushering in a much sought-after amp sim to the Helix catalog.
That is the "Brit 2203" – a new amp option, which is based on the Marshall JCM200 2203. It's joined by another notable addition to the amp arsenal, the PV Vitriol Clean, which in turn takes inspiration from the Peavey Invective.
The above have been released alongside five Line 6 originals – Clarity, Aristocrat, Carillon, Voltage, Kinetic and Oblivion – and seven cabs.
Elsewhere, pedal fans have been catered to with 3.70, with Line 6 adding a Nobels ODR-1 digital clone to its cohort of overdrive pedals. There are also three Line 6 originals: the Feedbacker generator (likened to the DigiTech FreqOut by John Cordy), and Dynamic Bloom and Nonlinear reverbs.
For bass guitar players, two amps based on the Fender Bassman Silverface and Orange AD200 MkIII, as well as cabs voiced on a 2x15" Fender Bassman JBL D130 and 6x10" Mesa/Boogie Power House, are included in the drop.
As mentioned above, these regular firmware updates are one of the key selling points of the Line 6 Helix lineup, and in the current state of heightened competition between an ever-growing base of modeling products, such updates might be enough to convince players to opt for Line 6 over others.
After all, it was only a few months ago that Line 6 were rolling out its first Dumble-style guitar amps, and it was around this time last year that the company completely changed the game with its all-new IR engine.
It is perhaps this sense of increased competition from the likes of Fender (which recently released the Tone Master Pro) and Neural DSP (which is finally rolling out plugin compatibility) that has prompted Line 6 to issue a new call to players to join its ranks, and has used the 3.70 update as temptation: "Considering becoming a member of the Helix family? Well, there's no better time than now to make your move." We are inclined to agree.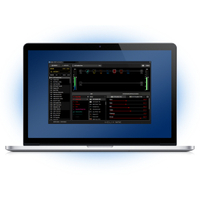 Line 6 Helix Native: Was $399.99, now $199.99
We're big fans of Helix Native and as owners of a HX Stomp, the stream of updates that have been trickled out since release makes it incredible value for money.
If you don't own a HX hardware unit, you can get yourself a massive 50% off the Helix Native program over at Sweetwater, which runs on your desktop and in your DAW.
For those who already own a HX hardware unit not only can you upgrade from the stock HX Edit for less, but you'll still get the 50% discount taking the price down to just $49.99.
Line 6's sentiments ring true not just because of this bumper firmware update, but also because of the savings season during which it's been introduced. At the time of writing, Sweetwater is offering up to $200 off Line 6's Helix Native software as part of their early Black Friday deals.
The new update is compatible with Helix Floor, Helix LT, Helix Rack, HX Stomp, HX Stomp XL, HX Effects, the recently released HX One and Helix Native. The HX One and HX Effects will only add the new effects models.
To find out more about the free update, head over to Line 6.