Over the last few years, Positive Grid's focus seemed to be on creating smaller and smaller versions of their beloved Spark desktop amp. Units such as the Spark Mini and Spark GO distilled the essence of the original practice amp down into a smaller format, giving guitarists the ability to take their tone anywhere with them.
In a move we didn't see coming – mind you, the amps couldn't get any smaller – Positive Grid has launched a new product that looks to transform your practice setup into the ultimate live rig – introducing the new Spark CAB.
While this 140-watt Class D powered FRFR cabinet is compatible with all three of the Spark models, it's also designed to work perfectly well with non-Positive Grid products, becoming the ideal platform for modern amp modelers and multi-effects pedals.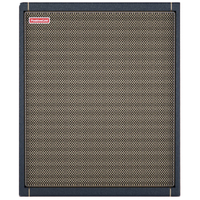 Pre-order your Positive Grid CAB now!
Pre-orders are now open for this brand-new Positive Grid cabinet with an introductory price of $269/£259. If you want to take advantage of this offer, you'll need to be quick as it's only available for a limited time.
Design & build quality
Like the previous offerings from Positive Grid, this new cabinet has a quiet elegance to it. The gold and black aesthetic certainly put us in mind of a rather legendary British amp maker while also looking fresh and modern. This trademark style has become a cornerstone of the entire Positive Grid line, and it's nice to see it continue here – so it's a 10/10 in the looks department from us.
In fact, once the cab is topped with the original Spark 40, it looks exactly like a traditional head and cab setup – albeit a shrunken-down version. It even looks passable with the Spark Mini sat on top. However, it does fall down when it's paired with the smallest of the family, the Spark GO. The sheer size difference between the two units leads to a rather silly-looking rig, so we can't see anyone rocking up to a gig with this as their main setup.
While we are on the subject of the Spark GO, unfortunately, we encountered a minor but annoying problem when using the two units together – the amp does not want to sit still on top of the cab. Unfortunately, the weight of the guitar cable is enough for the GO to topple over, and this means the pint-sized amp has a tendency to fall off the cab if you were to move around – not ideal in a live scenario.
Perhaps Positive Grid could add a recess into the top of the cab to act as a sort of port that would hold the GO in place, solving this pesky issue.
Overall, the Spark Cab feels very sturdy and well put together – not that we'd expect anything less from the practice amp innovators. It certainly feels as though it would stand up to the harsh conditions of the road, and it's lightweight enough that it shouldn't be a problem for anyone to carry from venue to venue.
Features & sound
On the rear of the cabinet, you'll find a plethora of inputs and outputs, as well as a few handy features to ensure you get the best sound possible – regardless of the piece of gear you're using.
As well as a dedicated input for Spark amps, there are dual stereo combo inputs that offer both XLR and TRS connections, meaning you can easily hook up your favorite multi-effects unit or amp modeler – so if you're a fan of the Kemper, Helix or Quad Cortex you'll be able to use this FRFR speaker.
Better yet, Positive Grid has also included a balanced XLR output, which allows you to send the signal off to the front-of-house desk or a recording device. What's more, there is also a very useful ground lift switch to reduce unwanted hum or noise – very handy indeed.
Spark users will be delighted to know there's both a USB-C and DC power output located on the back, which can be used to power your amp, phone, or tablet.
Okay, that brings us to the sound of the new Spark Cab. At a blistering 140 watts, this cabinet is loud, very loud. It will most definitely compete with a heavy-handed drummer at a rehearsal or gig, although you may want to elevate it off the floor.
The 10" woofer and duo of high-frequency tweeters do a great job of providing clarity and punch, and there's plenty of detail in the top end. That said, it is a little bass-heavy. We found ourselves rolling off the bass on our favorite Spark presets and even doing the same when using a third-party multi-effects unit.
It's worth noting that there is a "contour" switch on the back, which is used to emphasize low and high frequencies with a view of giving you a more balanced sound at lower volumes. Now, we actually didn't feel like we needed this switch at all, as there was plenty of bass already – even at home practice levels.
Final verdict
Positive Grid proves once again why they are front runners in this space. The Spark CAB is not only a brilliant addition to the rig of existing Spark users, but it's also the ideal unit for modern players looking for a cost-effective FRFR cab for running their favorite digital modeler or multi-effects pedal.
Yes, we had a slight issue when pairing the new cab with the pocket-sized Spark GO and you do need to tweak your presets to better suit the EQ curve of the speaker, but overall, it was an enjoyable experience using this well-made and innovative cabinet.
If you are keen to use your bespoke Spark presets in a live setting – or you just want to seriously up your recording game – the new Spark CAB is a must-have addition to your Positive Grid rig.
Specifications
Frequency Range: 45-20,000Hz
SPL: 117dB (RMS), 120dB (Peak)
Power Amp: 140 Watt Class D Amplifier
Speakers: 1x10-inch woofer, 2x1-inch (25mm) tweeter
Impedance: 4 ohms
Controls: Input Selector - Switch between the 3.5 mm Spark Input and the two mono XLR/TRS Combo Inputs, Speaker Volume, Line Out Volume, Ground Lift Switch, Contour Switch - Boosts low and high frequencies to improve balance at low volumes
Connections: 1 x 1/8" dedicated stereo Input for Spark Amp, 2 x mono XLR/TRS combo inputs, 1 x mono XLR balanced output
Dimensions: 492.5 x 399.8 x 255 mm (with rubber feet) (19.39 x 15.74 x 10.04 in)
Weight: 13.5 kg/29.76 lbs
Contact: Positive Grid