If you want to imitate the sound of the Beatles by acquiring the exact same models and vintages of gear that they used, good luck.
The guitar and amp models the Beatles played are some of the most collectible and expensive items on the vintage market today, especially items that match the same exact years, like their 1962 and '64 Gibson J-160E acoustic-electrics, 1957 Gretsch Duo Jet, or a 1963 Rickenbacker 325.
Check our guide to how the Beatles crafted the guitar and bass tones that forever changed the sound of rock music for more on those exact models.
Similarly, vintage Vox tube amps from the '60s fetch a pretty penny, and the hybrid solid-state/tube Vox models like the 7120 and UL730 are exceedingly rare, although fortunately the silverface Fender amps they used in the latter years are still somewhat reasonably priced.
Manufacturers often produce limited reproductions of the guitars the Beatles played, but usually these are expensive collector's items aimed at boomers with large bank accounts. Occasionally an affordable run of instruments will emerge, particularly around notable anniversaries, but these items also get snatched up quickly.
With the exception of the rare Vox hybrid amps and most Rickenbacker guitars and basses (which have highly protected copyrights), the sound of many of the Beatles rigs can be replicated with affordable, readily available gear. We've put together a list of our favorite choices that won't break the bank. While not everything will meet the needs of players in Beatles tribute bands who need to accurately look the part, these instruments certainly sound the part.
Electric guitars
Original: Rickenbacker 325 Capri Alternative: Squier Mini Stratocaster
John Lennon's 1958, 1963 and 1964 Rickenbacker 325 Capri electric guitars (the latter actually being a Rose-Morris 1996 variant) are iconic instruments of the early days of Beatlemania.
Because Rickenbacker vigorously guards copyrights and its instruments are so unique and distinctive, the best option for purists is to dig deep into their pocketbooks and buy an actual Ric.
With its short 22-inch scale (two inches longer than the 325's scale) and three single-coil pickups, the Squier Mini Stratocaster is about as close as one can come on a budget. Use heavy-gauge flatwound strings.
Original: 1957 Gretsch 6128 Duo Jet Alternative: Gretsch G5230T Electromatic Jet
Harrison's Duo Jet had a pair of DeArmond Dynasonic single coils, so to replicate his twang you'll want to replace the Electromatic's humbuckers with Dynasonic-inspired pickups like the TV Jones T-Armond.
Original: 1963 Gretsch 6122 Country Gentleman / c. 1962-63 Gretsch 6119 Tennessean Alternative: Gretsch G5420T Electromatic Classic Hollowbody
Although many Beatles enthusiasts consider the Gretsch Country Gentleman an essential Beatlemania guitar because it appeared in many live shows, television broadcasts and the film A Hard Day's Night, George Harrison actually used his Gretsch Tennessean hollowbody more often in the studio.
The Gretsch G5420T Electromatic Classic Hollowbody is a great alternative (particularly the walnut stain finish version), but like the Electromatic Jet, it has humbuckers. TV Jones TV-HT replacement pickups sound very close to the Tennessean's original HiLo'Tron single coils.
Original: 1961 Fender Stratocaster Alternative: Fender Vintera '60s Strat
The Vintera 60s Strat has the closest vibe to a vintage '60s Strat that you can buy for just over a grand.
Original: Epiphone E230TD/TDV Casino Alternative: Epiphone Casino
Played by Harrison, Lennon and McCartney on dozens of songs, an Epiphone Casino is a must-have for any guitarist who wants to duplicate Beatles guitar tones. Fortunately, Epiphone offers an affordable import Casino model that perfectly captures authentic Beatles tones and vibe.
Original: 1963/65 Rickenbacker 360/12 Alternative: Reverend Airwave 12-string
Like the Rickenbacker 325, there really is no substitute for a Rickenbacker 360/12. However, the Reverend Airwave electric 12-string guitar ticks a lot of the right boxes, including its semi-hollow construction, single-coil pickups and 24.75-inch scale.
Original: 1964 Fender Esquire/1968 Fender Rosewood Telecaster Alternative: Fender JV Modified '60s Custom Telecaster/Eastwood Mad Cat RT
Fender currently doesn't offer any Esquire or Rosewood Telecaster models (although that could change at a moment's notice), but a good '60s-style Telecaster will get you at least 90 percent of the way there for authentic Beatles tones.
We particularly like the JV Modified '60s Custom Telecaster for its overall versatility. If you prefer the look of Harrison's rosewood Tele, the Eastwood Mad Cat RT is a super cool choice.
Original: 1964 Gibson SG Standard Alternative: Epiphone SG Standard 60s Maestro Vibrola
With its Maestro Vibrola tailpiece and ProBucker pickups, this Epiphone model not only looks the part but it sounds like it, too.
Original: 1957 Gibson Les Paul Standard Alternative: Epiphone Les Paul Standard 50s
Like the Epiphone SG Standard, the Epiphone Les Paul Standard 50s is about as good as it gets for under a grand. This model may not come with Lucy's red finish, but the Metallic Gold option hints at Lucy's origins.
Acoustic guitars
Original: 1962/64 Gibson J-160E Alternative: Epiphone Casino
Neither Gibson nor Epiphone offers a J-160E-style model anymore. Because the original '50s and '60s models had heavy tops with ladder bracing, a modern acoustic-electric won't really cut it either.
However, the fully hollow Epiphone Casino actually delivers unplugged acoustic tones that come close, and the neck P90 pickup can closely duplicate the tones of the J-160E's P90 when plugged in.
Original: 1964 Epiphone Texan FT-79 Alternative: Epiphone Masterbilt Texan
Epiphone still offers a Texan model, and it's a highly affordable Masterbilt model – enough said.
Original: 1968 Gibson J-200 Alternative: Epiphone J-200
Harrison's '60s J-200 had a Tuneomatic bridge that gave it a distinctive jangly tone, but many acoustic purists consider the bone saddle in the Epiphone versions bridge a more traditional and better sounding option. The jumbo body dimensions also deliver the requisite volume projection and bass.
Bass Guitars
Original: 1961/63 Hofner 500/1 Alternative: Hofner Violin Ignition SE or Ignition SE Cavern
Featuring hollowbody construction and a short 30-inch scale length, Hofner's Ignition Series basses deliver sound and looks to please discriminating fans of original Beatle bass tones that come direct from the source.
Original: 1964 Rickenbacker 4001S Alternative: Rickenbacker 4003S
Similar to the Rickenbacker guitars above, there really aren't any affordable brand-new alternatives to the Ric 4001S on today's market. If you absolutely have to have a Ric bass, the 4003S is available for just over two grand.
Original: 1966 Fender Jazz Bass Alternative: Fender Player Jazz Bass
The Fender Player Jazz Bass delivers the classic punchy, rumbling tones of McCartney's latter-day Beatles bass tracks.
Original: 1968 Fender Bass VI Alternative: Squier Classic Vibe Bass VI
Instead of shelling out thousands for an original vintage Fender Bass VI or a baritone that's more suitable for metal, you can pick up a Squier Classic Vibe Bass VI for less than five bills. It even has the same bound fingerboard and large CBS-era-style headstock as the model played by John and George.
Amps
Because the Beatles used so many different amp models in the studio over the course of 1963 through 1970, it can be frustrating attempting to duplicate their amp rigs.
The hybrid tube/solid-state Vox amps, which are quite rare, can be particularly difficult to replicate accurately, but fortunately the Fender amps they used in the latter days are the opposite. Instead of chasing individual tones, I recommend casting a net wider and focusing on good general-purpose tones that can be divided into two distinctive camps: Vox and Fender.
Vox AC15C2 2x12
The Vox AC15C2 does a great job covering the gamut of classic Beatles tones from their mop-top beginnings to their early psychedelic explorations. Its clean tones are particularly stellar, and the Top Boost channel can dial in period-correct tonal character. If you need more volume output for performing on stage, the AC30C2 delivers the goods for a few hundred more bucks.
Fender '68 Custom Princeton Reverb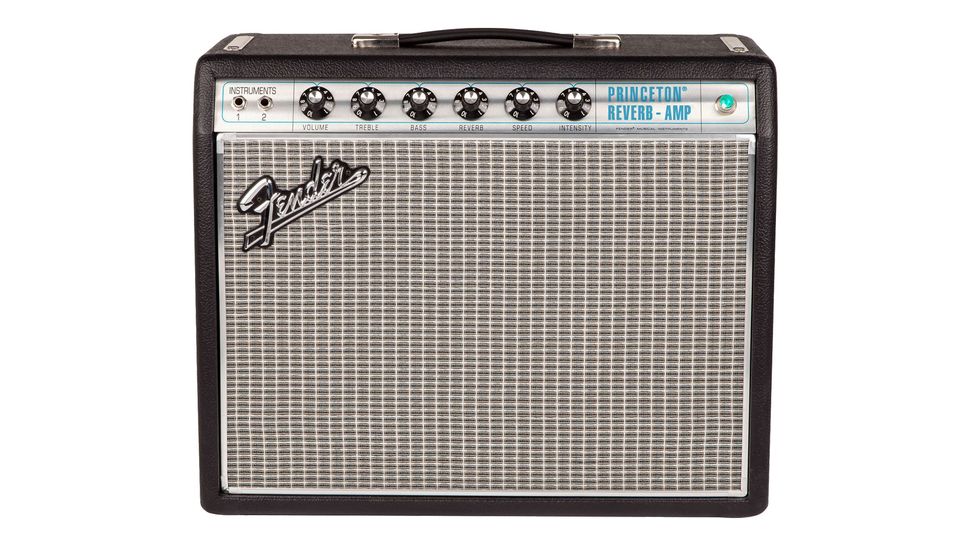 With the exception of McCartney's Blonde Bassman and Harrison's blackface Showman and Deluxe, most of the Beatles' Fender amp tones in the studio came courtesy of late '60s silverface models.
The Fender '68 Custom Princeton Reverb provides very sweet silverface clean and overdrive tones at studio volume levels. For higher stage output levels, the Fender '68 Custom Pro Reverb occupies a nice sweet spot between the Deluxe Reverb and Twin Reverb amps.
Effects pedals
The Beatles did not employ too many pedal effects in the studio other than various fuzz boxes and an occasional wah or volume pedal.
Many of their more dramatic effects were created using studio techniques like tape flanging or ADT (artificial double tracking). However, a handful of fuzz boxes and pedals that duplicate studio effects are very helpful for nailing authentic Beatles tones.
Boss TB-2W Tone Bender
A Sola Sound Tone Bender first showed up at Beatles sessions while they were recording Rubber Soul in 1965, and various Sola Sound Tone Benders played important roles on Revolver and beyond.
The Boss TB-2W accurately replicates the tones of an original Sola Sound Tone Bender Mk II, while its adjustable voltage settings expands the range of available tones. Medium Attack settings are ideal for mid-'60s lead tones, while dialing the Attack up full takes the sound into Sgt. Pepper territory.
JHS Colour Box 2
A modern reproduction of the REDD.47 line amplifier that was used to generate the gritty distortion on Revolution will set you back more than two grand, but the JHS Colour Box 2, based upon a Neve 1073 mic preamp, will get you very close to that distinctive sound for less than a fourth of that price.
It's also in a pedal format so you can use it on stage, and it's a highly versatile preamp/EQ that sounds great with any instrument or vocals (not just for over-the-top distortion).
Dunlop JDF2 Classic Fuzz Face
A Fuzz Face is essential if you want to replicate most of the distorted lead guitar tones heard on Abbey Road and Let It Be.
Keeley 30MS Automatic Double Tracker
This pedal's "Abbey" mode should give you a good idea what it does. Yes, this is an electronic version of the tape machine-based ADT effect that the Beatles often employed. Your guitar will gently weep when you plug it into this.
Electro-Harmonix Lester K
If you don't have the space or upper body strength to deal with a huge Leslie 147RV cabinet, the Electro-Harmonix Lester K provides dazzling rotating speaker effects that sound every bit as good as the real thing, and fits into your guitar case.