For one day only, you can get your hands on a copy of Positive Grid's powerful BIAS FX 2 Standard guitar plugin, completely free. To celebrate today's International Day of Peace the software and smart amp gurus are in a generous mood, giving guitarists everywhere the chance to enjoy this highly-rated amp simulator without paying a dime.
To get yours, all you need to do is enter the code FREEYOURMUSIC when you check out and you'll receive a full amp simulator with 73 presets, 39 amp models, and 43 effects on the house. The offer only lasts until the end of the day on September 21st, so you'll want to move quickly to grab your copy. It's an unprecedented proposition from the company and one that aims to show the power of music to bring people together during tumultuous times.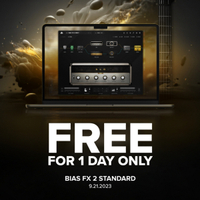 BIAS FX 2 Standard: Free amp sim software
Positive Grid is giving guitar player's everywhere a complimentary version of their BIAS FX 2 Standard amp and effects simulator completely free of charge! All you need to do to claim your copy is enter the code FREEYOURMUSIC when you checkout before the end of the day on September 21st. Packed with incredible amp models and pretty much any stompbox you can think of, this is an offer that every guitarist should be taking advantage of.
We rate Positive Grid's software very highly here at Guitar World and in our BIAS FX 2 review sung it's praises for it's accurate amp simulation and huge range of effects. There's a lot of competition nowadays in the world of guitar plugins, but BIAS FX 2 remains amongst the best out there thanks to its versatility and ease of use.
BIAS FX 2 recently got a major update too, with a huge overhaul of its DSP engine, more amp and effects pedal models, and an improved UI. Changes to the DSP engine have resulted in scarily accurate-sounding cab models that react to changes in mic position uncannily. More effects have been added into the fray and they sound better than ever, with enough choice to keep even the most explorative guitar players busy for a long time.
There are also features like an improved Guitar Match tool, which can make your Strat sound like a Les Paul or vice-versa, Time Machine which automatically records your last ten minutes of playing, and even a built-in looper. Add in your more usual suspects like a tuner and a metronome and you've got one of the most complete guitar VSTs on the market, at zero cost to yourself.