You might think it's too early to get your hands on an early Black Friday guitar deal, but we're already starting to see retailers and manufacturers dropping prices in an effort to tempt you to part with your hard-earned cash. Over at the Fender shop, they've launched their Black Friday Fender deals early, so you can help yourself to $100 off Player Plus and $50 off Player series guitars. You'll want to move quickly though – they're only available while stocks last.
Player Plus and Player series guitars have proved incredibly popular during the last few Black Friday events, so this is a great opportunity to bag an early deal on what will undoubtedly be one of the best-selling guitar series this year.
There are a few limited edition versions that aren't included in the sale, but if you're after a Player Plus or Player series instrument now's definitely the time to pull the trigger. We spotted the awesome-looking Meteora, Jazz Bass, P-Bass, and Jazzmaster all with discounts, so there's something for every guitar player here.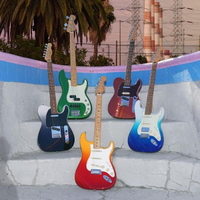 Fender Player Plus Series: Get a massive $100 off
Packing in a huge amount of premium features for relatively little money, the Fender Player Plus series is our personal favorite when it comes to great value, mid-range guitars. Over at the Fender official store, you can now get a tasty $100 discount on the majority of Player Plus models, with only Limited Edition models excluded from the sale. These offers don't have an end date but are only available while supplies last.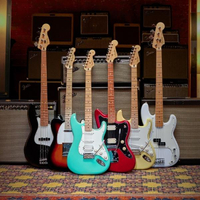 Fender Player Series: Get a huge $50 off
Featuring some of the most popular guitars of the last few years, Fender's Player Series instruments allow guitarists to get the famous 'F' on their headstock without having to spend loads of cash. Already phenomenal value for money, the Fender Player Series now has a healthy $50 reduction from their regular price. If you're after a guitar that doesn't cost the earth but will have your back when recording or gigging, there's little else that competes at this price point.
It's a huge sale on two of Fender's most popular lines, making it an excellent opportunity to bag a gig-ready guitar for less. As the owner of one, we have to give a shout-out to the eminently versatile Fender Player Plus Telecaster, which has got $100 off its regular price bringing it down to just $999.99. With locking tuners, rolled fingerboard edges, and push-pull tone control that engages both pickups in series, it's a proper gigging workhorse and a dream to play.
One of the best-selling guitars of the last two years, the Fender Player Stratocaster has become one of the ultimate mid-range instruments that gives you excellent recorded tone and gig-worthy playability below the $1,000 mark. It's got a $50 discount at the moment, bringing the price down to $849.