If you've always dreamed of owning a Fender Strat, then this early-Black Friday deal is the one for you. Guitar Center has reduced the prices on a select number of Fender Player Stratocasters by up to $210, which means you could have one resting in your hands for as little as $599. Get in quick though because this pre-Black Friday deal ends on November 15.
The Player series is classed by Fender as entry-level instruments, but we think that's doing them a serious injustice. Build quality, tonewoods, hardware and that characteristic Strat sound are all spot on – it really can be tricky to tell these Mexican-made instruments apart from their much more expensive US counterparts.
Every Player Strat model is slightly different from the next, but all feature a hand-shaped original spec alder body, a modern C-shape maple neck with either a maple or pau ferro fingerboard, a 5-way selector switch, Alnico pickups, and a two-point bridge with bent steel saddles. Some models feature a humbucker-laden HSS configuration, which can be coil split when combined with the middle pickup.
Most importantly, all of these Player guitars have that unique, bell-like Strat tone in spades. They're unimaginatively good Strats, now at unbelievable prices.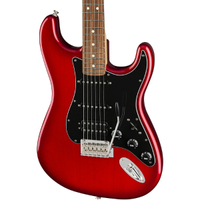 Fender Player deals: Save up to $210 Guitar Center
Guitar Center is discounting select Fender Player Strats by up to $210, which makes these awesome guitars an incredibly good deal. Authentic Strat appointments, shared by all models, include a hand-shaped alder body, a five-way selector switch, alnico pickups, and a fast, comfortable maple neck. There's the choice of a classic all-out single coil SSS configuration or you can opt for versions loaded with a humbucker in the bridge. These are superb Strats at a very special price, so don't delay – this deal ends on November 15.
What does your dream Strat look like? Should you invest in a classic model, one with vintage appointments, or a more powerful, contemporary take on Leo's legendary guitar? To inspire you, here are some of our favorites from the sale.
If you're looking for a six-string friend that's never going to go out of fashion, an instrument that will serve you faithfully, whether you're playing at home, in the studio, or on stage, then this could be the one. The alder-bodied Fender Player Stratocaster has everything you need in a Strat and nothing you don't, all for just $599, $200 off. The spec is classic Fender – alder hand-shaped body, maple neck and fingerboard, Alnico 5 pickups in SSS configuration, a five-way selector switch, and a reliable 2-point tremolo bridge.
This particular Strat is also very smartly dressed in a thin gloss black finish, with a matching black pickguard. The perfect vibe for a heavy rock group or even a wedding band, and every genre in between.
By loading the Fender Player Strat with roasted maple fingerboard and Fat '50s pickups with vintage-inspired Custom Shop pickups and a gorgeous looking neck & fingerboard, Fender has elevated this modestly priced guitar to an entirely different level. And just look at the price too, just $749.99 – a $200 saving – for an instrument that looks like it costs at least twice that.
The Fat '50s pickups feature custom magnets wound with enamel-coated wire. They're a delight to play, purring with a warm, full tone until provoked with enough gain to elicit a throaty growl. The combined roasted maple neck and fingerboard are just lovely. Like all necks in the Player series, it's a comfortable, contemporary C-Shape with a fast, easy-to-play 9.5-inch radius fingerboard fitted with 22 medium jumbo frets. Choose from three colors – Fiesta Red, Surf Green, or Black. They all look fantastic.
The Fender Player Strat HSS Plus Top is for guitarists looking for a Stratocaster with a more contemporary vibe. The pickup configuration is HSS, with a powerful Alnico II humbucker in the bridge position. With the selector switch in position one, it oozes a warm, buttery tone that can turn deliciously meaty when you turn up the gain. However, flick the switch to position two and you're back in traditional Strat territory, thanks to an auto-split feature that splits the 'bucker into a single coil and combines it with the middle pup.
To ensure those humbucker tones retain clarity and articulation, this Strat has been given a beautiful, flamed maple cap. It's quite subtle, both in appearance and in the effect it has on tone, but it's a great feature to have, especially in a guitar that's currently priced at just $649, which is $210 off the original price. So, if you're looking for a more modern take on the classic Strat, this is definitely one for the shortlist.
Looking for more great savings? Keep your eyes on our Guitar Center Black Friday deals and Black Friday guitar deals pages. If it's something Fender-shaped you covet, check out our Fender Black Friday deals page.