Looking for a new axe, but you won't settle for run-of-the-mill colors and finish options? Luckily, Guitar Center has a few cut-price options that will help you stand out from the crowd and get noticed. For a limited time, the music retail titan has slashed up to 20% off the price of exclusive brands and special edition instruments – and this includes guitars, amplifiers, pedals, and pro audio equipment.
While browsing the extensive selection on offer, our eyes couldn't help but be drawn to the eye-popping Fender Player Stratocaster in the aptly named Green Burst. This HSS Strat isn't just beautiful, it's also fiercely versatile and unbelievably playable. While other Strats could be considered pedestrian, this model is anything but – and with $210 off, it's a no-brainer.
However, perhaps you are seeking a sleeker, more understated look. Well, in that case, you may want to take advantage of the $150 off this blacked-out Fender Player Stratocaster. This limited edition Strat brings to mind David Gilmour's iconic six-string, but at this price, it's a damn sight less expensive! Still not convinced take a look at more of the best Fender Player Stratocaster deals.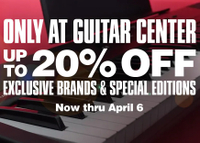 Guitar Center: Up to 20% off
Guitar Center is currently offering a fantastic 20% off a wide selection of musical equipment, from electric guitars to acoustic guitars, amplifiers to cheap pedals. As you'd expect, all the instrument heavy-hitters are represented here, with discounts on Fender, Jackson, Epiphone and Music Man through to 6 April.
Suppose Strats aren't your thing. Well, don't worry, there are even savings to be had on instruments designed to bring the doom. Fans of prog-metal legends Dream Theater can rejoice, as the ever-popular Sterling by Music Man John Petrucci JP70 7-string guitar currently has $150 off the listed price. This modern, high-performance guitar is everything you need in a 7-string and benefits from Music Man's stellar build quality. Other guitars on offer are the classic-sounding Epiphone Les Paul Traditional Pro IV, which sees $99 knocked off the eye-catching Worn Pacific Blue finish and $50 off the extremely pointy Jackson Rhoads JS32T.
Looking for a new guitar? Well be sure to check out our buyer's guides