If you're in the market for a Black Friday pedal deal or two this month, Sweetwater's up to 70% off early Black Friday sale is delivering impressive deals on all of Universal Audio's UAFX pedal range right now. We've found discounts ranging from $50 for the newer single-effect models, up to $80 off the top-of-the-line amp simulator models and more. Read n to find out why these are pedals we rate.
Despite being relatively new to the pedal world, UAFX has made a big mark on players from a range of genres looking to access those high-grade boutique tones in an accessible, usable pedal format. Typically, top-tier effects come with a hefty price tag, but with the discounts we're seeing from this year's early Sweetwater Black Friday sale, the range is currently much more reasonable and well worth considering.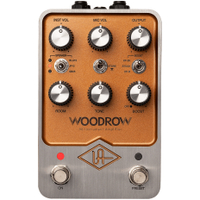 UAFX pedals: Up to $80 off Universal Audio pedals
Bag amazing savings on almost the entire range of UAFX guitar pedals, with prices slashed by between $50 and $80 on our top picks and more, right through until November 16.
Guitarists might have known they were in for a treat when Universal Audio introduced its range of pedal effects in 2022. Initially, this meant the introduction of a small line-up of guitar amp simulators, before then expanding to include reverbs, delays, modulators and a superb dual compressor.
Of particular interest is those amp simulators though. You've probably witnessed the rise of the pedal amp, meaning players can plug directly into the PA at a venue and access amazing tones in a much smaller footprint than if they'd had to lug a full-size amp around. You can see why this appealed to players. The UAFX Dream '65, down from $399 to just $319, is based on those classic Fender amps, and was a real highlight when we tested it earlier in the year, capturing all the sparkle, chime and warmth you'd expect.
We also loved the UAFX Galaxy '74 Tape Echo & Reverb – which is down to just $299 – thanks to its ability to add an otherworldly smear to everything from guitars to synths. A variety of secondary functions means there is a load of functionality wrapped up in such a small footprint, and this expands further when you take Bluetooth connectivity into account.
Finally, and perhaps the most important of all, is the more recent UAFX Max Preamp and Dual Compressor, which was $349, now $299. This pedal brings the ability to double up compression on your guitar. If you've never tried this, you might just find it game-changing, and the UAFX pedal offers up the capabilities in a single pedal with a superb quality preamp included as well.
The early Sweetwater Black Friday sale runs until November 16, right before most retailers start their official Black Friday guitar sales. Of course, there's no guarantee these products will remain reduced so if you've been eyeing up these UAFX pedals then now is the perfect time to take advantage.