Well, Black Friday is fast approaching and the early deals are coming in thick and fast. Now, while the Black Friday guitar deals typically steal the show at the end of the month, we're seeing more and more retailers start slashing their prices early – meaning you don't have to wait to grab a bargain. Case in point, Fender has just launched their Early Black Friday sale, which sees up to 25% off Aerodyne, 20% off Vintera and $100 off the Player Plus.
This fantastic sales event includes everything from high-performance electric guitars to thunderous basses, and even Fender branded clothing. Now, with 51 products currently available, we thought it would be a good idea to hand-select a few of our favorites to give you a better idea of what's on offer.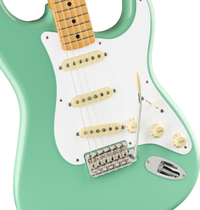 Fender Early Black Friday Sale: Save big on guitars
For a limited time, you can score an impressive up to 25% off Aerodyne, 20% off Vintera, $100 off the Player Plus and $50 off the Player. There really is something for every type of player – but only while stocks last.
First up is the absolutely stunning Fender Aerodyne Special Stratocaster HSS, which is reduced from its usual price of $1,329.99 to just $999.99, that's a saving of $330. Made in Japan, this is a rather unique take on the standard Strat design. The slim Aerodyne basswood body with a bound carved top delivers a distinctive feel that is like no other guitar in the Fender line, while the HSS pickup configuration produces a wealth of tonal possibilities.
The Player Telecaster is easily one of the most popular Fender models in recent years and tops our list of the best Telecasters on the market. Fender's Player Series sums up everything that makes Fender guitars so popular. Simplicity and quality lie at the heart of this range of guitars, and the Player Telecaster doesn't disappoint - and better yet, you can score $50 off the price.
It's no secret that we love offset guitars at Guitar World and the Vintera '60s Jazzmaster Modified is one of our favorites. This guitar is a sonic powerhouse and at only $1,039.99 it's a total bargain if you ask us!
Of course, there are many more models available, so we strongly recommend checking out the sale for yourself. Not quite ready to shop just yet? Be sure to bookmark our Black Friday Fender deals page, where we'll be posting the very best offers from across this year's Cyber Weekend.
Looking for more guitar-related deals? Be sure to bookmark our Black Friday deals hubs to ensure you don't miss out on an epic offer