Whatever your political standpoint, Presidents' Day (which is today, February 20, if you were wondering) is a great time to pick up a bargain. While you'll probably be inundated with deals for dog food and vacuum cleaners today, if you're a guitar player, there are a few stores you should head to check out the bargains – we've been covering the Presidents' Day sales for a while now and we know the places to shop.
Right now, you can save up to 40% off loads of great guitar gear and big name brands at Musician's Friend. You can also get 15% off your basket when you spend over $99 on qualifying gear. At Guitar Center there's 35% off a wide selection or guitars, amps, effects and recording gear. Both of these sales end on Wednesday February 22, so you have a couple of days to make your mind up on what to buy.
Elsewhere, you'll find up to 25% off Spark amps and 40% off BIAS software at Positive Grid and if you're planning on recording some guitar in the near future, there's all mastering plugins are down to just $29.99 at Waves.
Check out full details right here:
Presidents' Day sales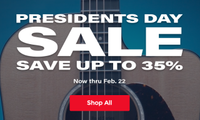 Guitar Center: Up to 35% off until Feb 22
The Guitar Center Presidents' Day sale is one of the biggest out there, with almost 1,200 discounted items up for grabs. Savings are available on Fender and Epiphone guitars, Line 6 and MXR effects, Fender and Vox amps and loads more. Ends Feb 22.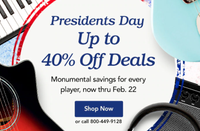 Musician's Friend: Save up to 40%
It's a deals bonanza over at Musician's Friend right now, whether you're after a guitar or bass, a new amp, something tasty for your pedalboard, or a new amp from the likes of Fender, Mesa or Boss. There's a discount code available too – spend over $99 on qualifying gear and save 15% (or 10% if your basket is between $49 and $99.98) with the code PRESDAY.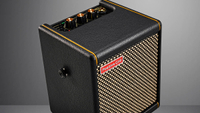 Positive Grid: Save up to 25% off Spark bundles
Whether you're looking for a deal on the standard Spark amp, or the slick new Spark Mini, there's money to be saved. If you want to harness the power of Spark's BIAS software for your recordings, you can also pick up various packages with up to 40% off.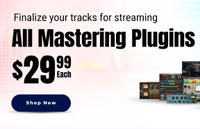 Waves: mastering plugins down to $29.99
Get your tracks listener-ready with Waves' range of killer mastering plugins, including the Abbey Road TG Mastering Chain, the J37 Tape Saturation plugin and the ever-popular PuigTech EQs. What's more, the more you buy the more you save.