Musician's Friend Cyber Monday deals: Quick menu
1. Quick links
2. Editor's picks
3. Cyber Monday FAQ
4. Shopping tips
5. How we choose
6. Why you can trust us
Well, Cyber Monday is over for another year. Over the last few days the internet has been completely flooded with amazing offers on guitar-related gear - and luckily most of the sales are still live today! Musician's Friend's Cyber Monday sale is alive and kicking and you still have time to score up to 50% off big-name brands.

Now, we've been covering this mega sales event for years now and we can safely say that the Musician's Friend Cyber Monday sale most definitely delivers. With massive savings on everything from electric guitar and acoustic guitar to recording gear and accessories, there is always something for everyone.
Obviously, the Musician's Friend Cyber Monday deals are ideal for picking up the perfect Christmas gift for the budding guitarist in your life. From the best guitars for kids to the best acoustic guitars for beginners, you'll find the ultimate gift for that special person.
Musician's Friend Cyber Monday deals: Quick links
Shop the department of your choice in the Musician's Friend Cyber Monday sale:
Musician's Friend Cyber Monday deals: Editor's picks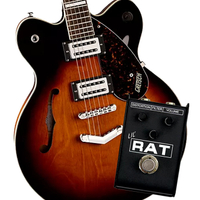 Musician's Friend Cyber Monday sale: 15% off code
Save up to 15% on qualifying orders of over $99 (or 10% on orders between $49 and $98.99) using the code CYBER over at Musician's Friend. There's nearly 15,000 pieces of music gear to go through, but for guitar players, the sale features a wealth of guitars, pedals and amps, which can all be snapped up at a discounted rate.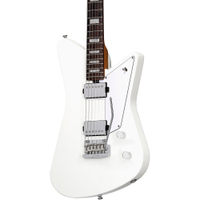 Sterling by Music Man Mariposa: $599.99, $399.99
The esoteric looks of the Sterling by Music Man Mariposa will come as no surprise to anyone who's heard design collaborator Omar Rodriguez-Lopez's guitar work. It's got a phenomenal $200 discount and just like the man himself, this guitar is angular, dynamic, and tonally versatile.
Price check - Sweetwater $599.99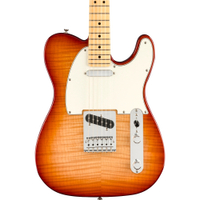 Fender Player Tele Plus Top: Was $829.99, $649.99
Sometimes, only a Tele will do - and the Fender Player Telecaster Plus is a brilliant option for those seeking the bright and articulate attack this humble guitar provides. The inclusion of a flame maple veneer and striking finish brings a modern flair to this classic guitar, and with $180 off, it gets even better.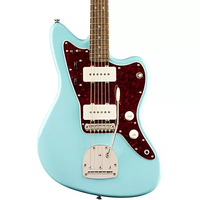 Squier Classic Vibe '60s Jazzmaster: $429 $349
Be still, our aching wallets: this offset stunner comes in three of the all-time best Fender finishes – Daphne Blue, Shell Pink and Surf Green – and delivers all the typical Jazzmaster playability via a rhythm/lead circuit, two Alnico single coils and a floating vibrato system. And it's now $110 off at Musician's Friend. What are you waiting for?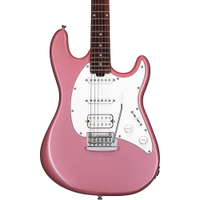 Sterling by Music Man Cutlass: $549.99, now $479.99
If you are looking for a seriously versatile axe that looks as good as it sounds then the Sterling by Music Man Cutlass, in stunning Rose Gold, is a must! This guitar is effortless to play and its HHS setup means it will cover a lot of sonic ground - and better yet, there's a mega $70 off right now!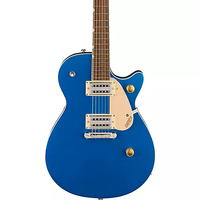 Gretsch G2217 Streamliner Junior Jet Club: $399, $299
One of the biggest electric guitar bargains you'll find this Cyber Monday is this gorgeous Gretsch single-cut for just $299. Besides this limited-edition – and rather classy – Fairlane Blue finish, the JJC BT's big selling point is its pair of Broad'Tron humbuckers, which offer a wide frequency response for a more contemporary twist on the company's trademark tones. And at $100 off from Musician's Friend, you really have no excuse not to sample that great Gretsch sound.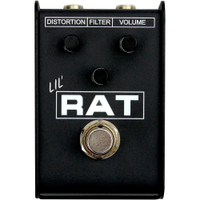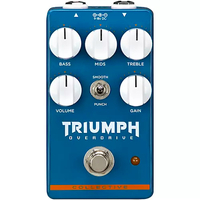 Wampler Triumph Overdrive: was $99.99 now $84.99
Hailed as "better than the Bad Monkey" by JHS Pedals head honcho and guitar tone influencer Josh Scott, the Triumph takes the best features of DigiTech's cult classic overdrive and mixes it with the Boss SD-1 for a dual-voice pedal that can handle all overdrive scenarios. A three-band EQ means it can slide into any rig, while its pair of modes offer two distinct flavors: the mid-hump Smooth mode and more open, touch-sensitive Punch. At $84.99 from Musician's Friend, this is an absolute steal.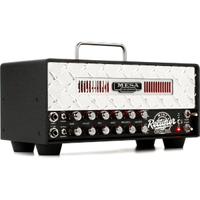 Mesa/Boogie: Up to $679.80 off
With select savings well over the $600 mark, it's the perfect time to grab yourself a premium tube amp for less. There's a selection of combos and tube amp heads too, so no matter what your style you can get that sought-after Mesa tone for less.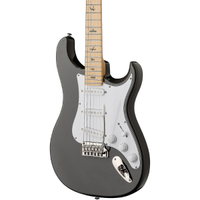 PRS SE guitars: 20% off a huge selection
From the ever-divisive John Mayer Silver Sky to the sumptuous PRS SE Hollowbody II there's a huge selection of PRS SE guitars with 20% off in the Musician's Friend Holiday Deals. PRS SE offers fantastic build quality, stunning looks, and beautiful tone for less.
Musician's Friend Cyber Monday deals: FAQ
When is Cyber Monday?
Cyber Monday 2023 will land on Monday, 27 November. Although, the deals won't be restricted to the four days that are known as Cyber Weekend (Black Friday to Cyber Monday).
Previous experience tells us that some of the best Cyber Monday deals will emerge well in advance of the event – so keep checking this page to see what epic deals we uncover.
Should I buy guitar gear online during Cyber Monday?
If you're concerned about buying a guitar or other gear on Cyber Monday without playing it first, you needn't be. Online musical instrument retailers like Guitar Center, Musician's Friend and Sweetwater offer hassle-free returns as standard, so you can purchase a guitar, play it in the comfort and privacy of your home and, if it's not right, send it back without issue.
You should check the specific returns policy for your chosen retailer before you purchase, but most offer between 30-45 days to return an item, as long as it's in original condition.
What else can I buy during Cyber Monday 2023?
It's not just about the Cyber Monday guitar deals in November. Aside from music-making gear discounts, you'll find bargains on great tech like robot vacuum cleaners, iPads, MacBook Pros and Amazon Echos – and you can even pick up groceries, pet food and dishwasher tablets – but it's the guitar deals we'll be looking out for.
Musician's Friend Cyber Monday deals: Shopping tips
Got your eye on a few things and wondering whether Cyber Monday is the time to buy? Here's a few tips from our personal experience that will ensure you're ready to strike if the gear you want is up for grabs:
1. Create a wishlist early - The most sensible way to take advantage of this year's Cyber Monday music deals is to know in advance what you're looking for. This will make searching much easier, rather than having to trawl through loads of deals you don't want to find the ones you do, or pondering things you don't need. To help you create your dream shopping list, take the time to explore our expert and up-to-date buying guides and reviews.
2. Work out what you actually need - Check out your favourite brands, see what you need and will genuinely use - don't waste your cash and fill your basket with stuff that will never truly see any action.
3. Consider your music goals - What do you want to achieve with your music over the next 12 months or so? Do you want to gig more? Learn a new instrument? Or finally, record your songs? Now could be the time to invest in gear that helps you fulfil your musical aspirations.
4. Streamline your current gear - Something else you should consider ahead of time is whether you have enough space in your collection for new gear. Could you offload some gear you don't use to make room and generate funds for some new gear?
5. Sign up to mailing lists - In addition to bookmarking this page, we'd recommend signing up to mailing lists of your favourite retailers now to get the jump on the best deals when they do come around.
What to expect
You can trust Guitar World Our expert reviewers spend hours testing and comparing guitar products so you can choose the best for you. Find out more about how we test.
Last year's Musician's Friend Cyber Monday deals covered a range of top guitar and bass brands, such as Gretsch, Yamaha, and Fender, with up to 15% discounts on orders over $99 with a Musician's Friend coupon.
We also saw a mammoth $120 saving on the Martin Special X1-DE, bringing the price of this stunning acoustic down from $599 to just $479, as well as $170 off the shred-tasic Schecter C-1.
We fully expect this year's sale to bring more of the same, with excellent savings on everything from the best metal guitars and guitar wireless systems to the best electric guitar strings and even the latest pedalboards.
The retailer also offers a clear and concise returns policy, so you can return items risk-free if it doesn't quite suit - make sure you read the terms and conditions first.
How we choose deals
Here at Guitar World, we are experts in our field, with many years of playing and product testing between us. We live and breathe everything guitar-related, and we draw on this knowledge and experience of using products in live, recording and rehearsal scenarios when selecting the products we recommend.
First and foremost, we are guitarists, and we want to match other players with the right products for them, at the best prices.
For us to recommend a deal it has to be a product we rate that's a genuinely great price or part of a truly fantastic bundle. It's also important that we only recommend retailers where you will have a positive shopping experience.
Why you can trust our choices
We spend a lot of our time scouring guitar retailers for fantastic deals on our favorite gear. Not only is it our job to research and recommend the best gear in our buyer's guides, but we're also dedicated to helping players get the best deals for the gear they need, too. After all, the only thing better than new gear day is a hearty discount.
We cover a lot of the big sales events throughout the year, including Memorial Day, Black Friday, 4th of July sales and Amazon Prime Day, and we have a good view on which products are likely to receive the biggest discounts and when, the prices they've been in the past and which deals are genuinely worth a look.