With just a week to go until the big day, the Black Friday guitar deals are in full swing and Thomann may have just dropped the most varied sale we've seen so far. Thomann's epic up to 60% off Cyber Week sale sees hefty discounts on over 900 products from guitars and pedals, basses to recording equipment, and so much more - and if that wasn't enough, you can also score 80% off software.
Now, we know you'll be inundated with offers at the moment - it seems every brand and retailer has launched a sale in the last few days. But don't worry, if you live in the UK or Europe, we've done the hard work for you, scrolling through countless pages of deals to pick out our favorites. Check out our top picks below.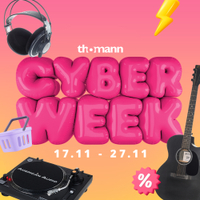 Thomann Cyber Week Sale: Up to 60% off
The hotly anticipated Thomann Cyberweek sale is here and it's every bit as good as we hoped. From now until the 27th, you'll find more than 900 carefully curated deals on everything from guitars to amps, synths, drums and so much more. So, if you're on the hunt for mega bargains on everything you need to make music and you're a UK or Europe-based musician, Thomann is the place to shop this Black Friday.
It is hardly surprising that we are seeing some of the most generous discounts applied to Harley Benton instruments. Thomann's own brand is already a low-cost alternative to larger companies such as Fender, Gibson, Ibanez and PRS, but when there are discounts this big applied to some of the most popular models, they become even more enticing.
One of our favourite models, the Harley Benton MR-Modern is down from £252 to a mind-blowing £174! Modeled after a Mosrite, this punk-ready guitar is a total steal at this price. There's also a whopping £100 off the fan favorite, Harley Benton Fusion-III HSH Roasted, which is now only £263. This high-performance axe punches well above its weight and is a must-have guitar for any budding shredder. There are also deals to be had on Harley Benton pedals, with both the Tag Team and Sidecar down to a mere £34.
Of course, it isn't only Thomann-branded gear on offer - there are plenty of big-name brand discounts, too. Are you a fan of Gibson's formidable singlecut? Well, you're in luck as the Gibson Les Paul Standard 50s P90 is down to only £2,222, that's a saving of £258! Perhaps the Epiphone alternative is more your speed? Well, in that case, the Epiphone Les Paul Standard '60s has gone from £611 to £525.
Now, that's just a snippet of what's on offer. There is so much more to sink your teeth into so we implore you to take a deep dive into the sale for yourself. The sale runs until the 27th of November, but stock will be limited on a few of the items so don't hang about.