Now, Christmas is right around the corner. In only 13 days, the big day will be here and we'll be drowning in a sea of wrapping paper, fighting over the last roast spud, and drinking too much. Of course, before we get to that point, we need to get the dreaded Christmas shopping done. Now, if you're looking for one of the best gifts for guitar players, or you just feel like you deserve a treat, then Fender has you covered. Earlier this month, Fender launched its 12 Days of Deals promotion, offering players a six-string themed advent calendar of bargains (opens in new tab) – and it ends today!
Fender kicked off this brilliant sale with a stellar discount on the Squier 40th Anniversary Vintage and Gold series (opens in new tab), which saw the Jazzmaster, Telecaster, and Strat, slashed by 30%! As the sale continued, Fender took their scissors to the price of beginner starter packs (opens in new tab), dropping the Squier Stratocaster Pack to only $259.99.
On day 5, Fender heavily discounted their acoustic guitars (opens in new tab), with one of our favorites - the beloved CD-60SCE Dreadnought - dropping to only $319.99.
Of course, there are many more items on offer, from Fender pedals (opens in new tab) to clothing and accessories, so we suggest you take a look for yourself. Luckily, all 12 of the deals are still available, but you'll need to be quick, as the sale ends today!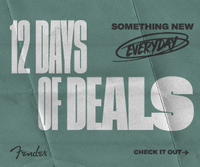 (opens in new tab)
Fender: 12 Days of Deals (opens in new tab)
Fender is here with an advent calendar that goes far beyond mini chocolates. For the last 12 days, Fender has been dropping truly epic bargains - right in time for Christmas. There are discounts on everything from guitars to accessories, so be sure to grab one while you still can!
Need more Christmas gift inspiration? Check out our expert buying guides