We've only just hit November and already the Black Friday guitar deals have started rolling in. First up, everyone's favorite smart amp manufacturer has dropped a huge official Black Friday sale, with Positive Grid offering big money off their Spark amps and a huge 60% reduction on BIAS software. We're big fans of both products here at Guitar World, giving a rare five stars out of five in our Positive Grid Spark review.
We have a real soft spot for Positive Grid gear here at Guitar World and many of us use their amps and software ourselves. In fact, there's a Spark Mini sitting on our desk as we type this and you can guarantee we'll be plugging in at some point today during a break. So of course we're super pleased to see it get a $40 discount in the Black Friday sale. In our Positive Grid Spark Mini review, we praised it for its abundance of quality sounds and surprisingly loud tones given its size, and made it our top pick in our best mini amps guide.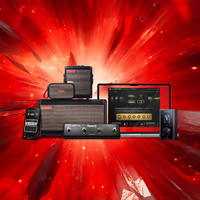 Positive Grid Black Friday: Money off smart amps
The Black Friday sale has launched early giving you the opportunity to save big on desktop amps, amp modeling software, and accessories. With $70 off the Spark 40 and $40 off the Spark Mini, it's a great opportunity to get your hands on some of the best smart amps in the world for a lot less. There's also loads of guitar VST software available too, perfect for getting better-recorded tones at home.
There's loads of gear included in the sale and we've already spotted a tasty $40 reduction on the Positive Grid Riff audio interface, which we think is one of the best guitar audio interfaces you can buy today, giving it four stars out of five in our review. As well as the discount on Riff there are some awesome bundle deals on recording software with $480 off the BIAS Platinum bundle and $270 off BIAS Essentials if you're looking to upgrade your amp and effects modeling game.
You can also get your hands on another Guitar World favorite in the Positive Grid Spark GO, which is probably one of the smallest amps we've ever seen and has a nice $20 discount in the Black Friday sale. In my Positive Grid Spark Go review, I gave it plenty of plaudits for its loud performance, usable practice tools, and massive sound selection.
If you already own a Spark amp, there are also a bunch of accessories to get your hands on including the traveler which is half price at just $30, and the super cool looking crimson grille for the Spark Mini, which has a hefty $30 discount, taking it down to just $20. There are loads of software deals too including additional cabinet impulse responses, effects pedal add-on packs, and the Positive Grid EQ and compressor for mixing purposes.
We'll be keeping track of all the Black Friday Positive Grid deals as we move closer towards the big Cyber Weekend sales event at the end of the month. Will we see any better deals on Black Friday than those available today? It's hard to say. Today's deals are already really good, so we're not so sure there will be further reductions on what's available now, but there could be more items added to the sale later on.