Yep, you read that right. The Black Friday guitar deals have come early to Sweetwater, promising deals, discounts and all manner of exciting goodies to be grabbed. If you're in the market for a new guitar, amp, pedal or that finishing touch for your home studio setup – and you can't wait until the end of the month – then there should be something to catch your eye at Sweetwater, with promises of up to 70% discounts on some products.
We've taken a closer look and, with so many incredible deals to consider, logging on to the site is a sure-fire way to kiss goodbye to a couple of hours as you travel further down the rabbit hole. To save you some time, we've rounded up a few of the most eye-catching deals we could find, including big reductions on gear we love and that we've rarely seen getting discounts of any kind.
As one of the biggest names in musical instrument retail, it's no surprise that this early Sweetwater Black Friday sale is a good one. With bargains to be found all over the site, now's the time to treat yourself.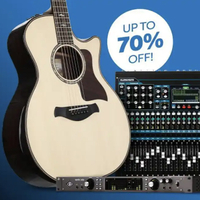 Sweetwater's early Black Friday sale: Up to 70% off
You don't even need to wait for Black Friday to access some amazing deals on guitars, basses, amplifiers, pedals and more. You'll find eye-catching deals on PRS, Universal Audio, Mesa/Boogie, Taylor and plenty of others topline guitar brands. The sale runs through November 16.
There are literally thousands of incredible deals in the sale but, naturally, some caught our attention more than others. Our pick of the current crop of PRS SE guitars have been reduced from $849 down to $679, including this stunning Swamp Ash Special available in a few colors. These SE models are, for the money, high class electrics with top-tier build quality and a range of neat color options to choose from. The addition of a single-coil pickup in the middle position adds to their tonal versatility, and with 20% off their usual price it's definitely a deal worth considering.
We'd also serve up the Strat-esque PRS Silver Sky SE as a great option for something more traditional, especially at its current sale price of $679.
We also got extremely excited when we saw a 25% reduction on selected Mesa/Boogie amps, including the small-in-size, large-in-tone Mini Rectifier 25 (now only $1,359) and a huge $680 off the monstrous Mark V combo, which is the lowest we've seen at $2,719. Definitely one for the Lamb of God fans.
And, if your pedalboard is looking like it has space for something special, then big reductions on the stellar UAFX range are well worth a look. For our money the UAFX Del-Verb ranks as one of the finest reverb pedals we've come across in recent years, packing in three sensational reverbs and delays which are – in my opinion – among the greatest ever committed to the pedal format. And with $50 off the usual price (now $299) we'd say now's the time to dip your toe if you've been considering it.
The sale ends on November 16, so you'll need to act fast before it ends, or stock runs out… Will Sweetwater's official Black Friday sale kick in on the 17th? And will the deals be any better? This is definitely going to be a tough act to follow.
Looking for more guitar-related deals? Be sure to bookmark our Black Friday deals hubs to ensure you don't miss out on an epic offer