These days, getting big sounds doesn't require spending big bucks. Whether you're in the market for a bedroom practice amp, a trusty studio unit or onstage blaster, there are plenty of amplifiers out there to choose from that won't break the bank.
Don't Miss!
(Image credit: Schecter)
• The 10 Best Electric Guitars Under $500
• The 10 Best Acoustic Guitars Under $1,000
• The 8 best amp modelers
The 10 combos gathered here run the gamut from tiny tube terrors to solid-state digital modeling wonders, and range in output from 50 watts all the way down to 0.5. But they all pack tons of power and punch, with top-notch tones, features and functionality—and all for under $500, to boot.
The Best Guitar Amplifiers Under $500 You Can Buy Right Now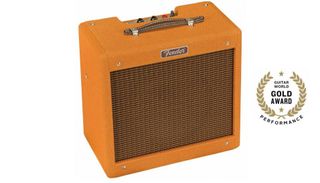 1. Fender Pro Junior IV Limited
Beck- and Clapton-praised model gets new upgrades
Launch price: $499 / £499 | Type: Solid-state combo | Output: 15W | Number of channels: 1 | Tubes: 2 x 12AX7 | Speaker: One 10" Jensen P10R | Weight: 22.85 lbs
Suitable for rock, blues and country flavors
Upgraded speakers, as well as volume and tone circuits
Attractive lacquered tweed covering
Heavy for its size
The Fender Pro Junior may be small, low-powered and inexpensive with only two control knobs, but Warren Haynes, Derek Trucks, Eric Clapton and Jeff Beck have
all sung its praises. Fender has made a few changes to the model since its introduction in 1993, but the new Pro Junior IV LTD boasts the model's most dramatic upgrades ever, including a Jensen P10R Alnico speaker (the same modification Beck made to his amps) replacing the former Eminence 10-inch, upgraded volume and overdrive circuits and lacquered tweed covering replacing the previous model's black Tolex.
The Pro Junior IV boasts a 15-watt tube circuit driven by a pair of EL-84 power tubes and two 12AX7 preamp tubes with a solid-state rectifier. Circuit geeks will also notice that Fender has upgraded the capacitors and a few other key components. Sound-wise, the Pro Junior IV is a tone beast. Even with the volume control at 2, its clean tones are harmonically rich and robust. Overdrive emerges between 5 and 6 with vintage humbuckers and between 7 and 9 with single-coil pickups. At 12 the distortion delivers an aggressive midrange roar that's almost British in character, but the bass is appropriately tamed so even drop-D power chords don't cause the speaker to fart out.
2. Peavey Vypyr VIP 2
40-watt unit boasts 36 amp and nine instrument models
Launch price: $249 / £235 | Type: Digital modeling combo | Output: 40W | Number of channels: 36 amp models with 25 effects | Speakers: 1 x 12" | Weight: 29 lbs
Designed for electric, acoustic-electric or bass
9 instrument models
36 amp models
Some feedback at high gain
Peavey's Vypyr VIP series of amps boast Variable Instrument Performance (VIP), which means they're designed to handle electric, acoustic-electric and bass guitars. Plug in your instrument of choice, select the instrument type on the Vypyr VIP's front panel, and the amp changes its input sensitivity and gain structure to match.
The VIP 2 is the 40-watt, 1x12 cab entry in the series (the VIP 1 is rated at 20 watts, and the VIP 3 at 100), and features an onboard engine boasting 36 amp models, a slew of effects and pedal models and, most impressive, nine instrument models, including 12-string, resonator, baritone and synth. There's also Peavey's TransTube technology, which offers the responsive feel and tone of a tube amplifier in a solid-state design, down to that genuine tube "sag." An optional Sanpera foot controller makes it possible to access a looper, while the Sanpera II's dual foot controllers are assignable to various parameters, such as volume or wah. The VIP 2 can also connect to a computer via USB 2.0, enabling the user to record directly to a DAW.
3. Boss Katana-Air
"World's first totally wireless" amp makes it truly playable anywhere
Launch price: $399 / £337 | Type: Wireless desktop amp | Output: 30W (w/AC adaptor), 20W (w/alkaline batteries) | Number of channels: Five amp models with four effects | Speakers: 2 x 3" woofer | Weight: 4.8 lbs
Wireless design
AC- and battery-powered options
Five amp models and 58 built-in effects
Drops to 20 watts of output when battery-powered
Boasting a built-in wireless receiver, the Katana-Air is billed as "the world's first totally wireless guitar amplifier." The compact, portable unit is ideal for practice and recording and is loaded with features, including five different amp models, 58 different types of built-in effects, stereo audio streaming via Bluetooth, battery or AC power and the ability to control, edit and program the Katana-Air via an iOS or Android smartphone or tablet with the free Boss Katana-Air app.
In addition to AC power, the Katana-Air can be powered by eight AA batteries. The fully charged wireless transmitter provides up to 12 hours of continuous operation, but in normal use it lasts much longer thanks to its automatic, motion-sensing standby mode that kicks in when no activity is detected. Typical of all Katana products — and Boss, for that matter — the Katana-Air offers a massive selection of rich, expressive sounds and versatile effects. The distortion and clean tones are ideal for any style of music, and the selection of effects is generous and comprehensive. Furthermore, the performance of the wireless system is flawless. The wireless design combined with the amp's battery-power option makes it a true "play anywhere" amp.
4. Orange Micro Dark
Tiny unit has a big, rich voice
Launch price: $249 / £129 | Type: Tube micro head | Output: 20W | Number of channels: 1 | Tubes: 1x 12AX7 tube | Weight: 1.72 lbs
Massive amounts of gain
Effect loop for patching outboard gear
Incredibly lightweight
Better suited for practice than gigging
Possibly the world's only bona fide metal amp that can fit inside a guitar case, the Micro Dark is nevertheless packed with features that include volume, gain, and shape controls, a 1/4-inch headphone output, speaker output (minimum 8-ohm load) and an effect loop.
The tiny unit boasts a preamp driven by a single 12AX7 tube and a 20-watt solid-state power amplifier that pumps out impressively loud volume levels, with mammoth bass thump and harmonically rich grind. The shape control produces a variety of tones by sweeping across a wide midrange sweet spot that can also enhance treble and bass as desired. The effect loop, meanwhile, enables guitarists to patch a studio multi-effects unit, reverb, delay or modulation pedal in between the preamp and power amp sections to produce truly professional-quality tones with low noise and impressive definition and articulation that sound particularly huge when recorded. A surprisingly versatile and powerful "secret" weapon for metal guitarists who love highly saturated grind but are tired of grinding their spinal discs lifting heavy equipment.
5. Marshall CODE50
Company's first foray into digital modeling is a big hit
Launch price: $299 / £229 | Type: Digital modeling combo | Number of channels: 14 amp models with 24 effects | Speaker: 1x custom 12" | Weight: 28.66 lbs
14 preamp models
Powerful enough for gigging
Bluetooth connectivity via Marshall Gateway app
Relatively narrow-focused amp and cab models
Part of Marshall's CODE Series, the company's first foray into the world of digital modeling amps, the CODE50 is a 50-watt combo with a single custom 12-inch speaker that provides four power amp models, 14 preamp models, eight speaker models and 24 effects (up to five effects can be used simultaneously), and can store 100 presets. Standard front panel controls include Volume, Gain, Master and Bass, Middle and Treble EQ.
Whereas most digital modeling amps try to be everything to everybody, the CODE50 mainly focuses on the company's greatest strength—genuine Marshall tones. The preamp and power amp models are comprised mostly of Marshall's most popular designs, including JTM45, Bluesbreaker, Plexi, JCM800, Silver Jubilee, DSL and JVM models. American clean and overdrive models and an acoustic simulator provide just the right amount of tonal contrast and variety.
Effects consist of all the essentials like compression, overdrive, modulation, reverb and delay, and up to five effects can be used at once. The free Marshall Gateway app allows users to control all functions with an iOS or Android device via Bluetooth. A great choice if you love Marshall tones but also desire the convenience, versatility and power of a modern digital modeling amp.
6. Line 6 Spider V 60
Feature-packed unit includes 200-plus amps, effects and cab models
Launch price: $299 / £281 | Type: Digital modelling combo | Output: 60W | Number of channels: 78 amp models with 23 cabinets and 101 effects | Speaker: 1x 10" woofer, 1x hi-freq tweeter | Weight: 20.5 lbs
More than 200 amps, effects and cab models
19 real drum loops
Full-range speaker system
Digital display is a bit small
The Spider V 60 is a 60-watt, 1 x 10 combo offering 200-plus amps, effects and cab models, an internal wireless receiver and a specialized full-range speaker system with a 10-inch loudspeaker. There's also over 100 presets, a built-in tuner, a metronome and 19 real drum loops to jam along to. Other features include Android and iOS apps and a built-in receiver for Line 6's Relay wireless transmitters, as well as an aux in and a USB out that will let you record to a PC using the bundled Cubase LE software, or to your tablet or mobile phone.
The full-range speaker system includes a custom-designed guitar speaker plus a high-frequency driver, offering better quality at low volume and more balance at higher volume levels. In addition to fantastic sound with electric and acoustic guitars, you can also plug in a full mix and hear it in high fidelity. Furthermore, the mobile app allows users to edit and save their own sounds, as well as upload them to the Line 6 cloud network and download firmware updates. Overall, the Spider V 60 offers tons of options in a sleek and futuristic package, all of it accessible via a color-coded control set on the front panel that is streamlined, intuitive and, it's worth noting, rather cool-looking, as well.
7. Roland Blues Cube Hot
Excellent quality, value and reliability in a compact package
Launch price: $499 / £409 | Type: Solid-state combo | Output: 30W, switchable down to 15W, 5W and 0.5W | Number of channels: 1, with boost | Speaker: 1x Custom 12" | Weight: 27.78 lbs
Versatile features
Vintage valve tones in solid-state design
Adjustable from 30 watts down to 0.5 watts
Not much
The heart of this solid-state amp lies in Roland's Tube Logic technology, which utilizes a mix of digital and analog circuits to duplicate the sounds of famous fine-tuned vintage tube amps, including preamp and output tube saturation characteristics, power supply compression and much more. The result is great tone and dynamic, "squashy" valve-like response.
The 30-watt Blues Cube Hot boasts a 12-inch custom speaker and footswitchable boost and EQ, as well as four output levels, from 30 watts down to around 0.5 watts, to properly reproduce the sound of a valve power stage driven into cut-off at any volume level. There's also a single input jack, with knobs for volume, bass, mid and treble, reverb and master output level. Two small illuminated buttons control the Cube's boost and tone features. At full power, the Blues Cube Hot is loud enough for small gigs, while the 0.5-watt setting is ideal for recording and practice. Excellent quality, value and reliability wrapped in a compact, portable and great-sounding package.
8. Blackstar Fly 3
Three-watt wonder sounds as good as amps four times its size
Launch price: $69 / £49 | Type: Digital modelling micro amp | Output: 3W | Speaker: 1x 3" | Weight: 0.9kg
Two channels
Digital "tape" delay effect
MP3/Line In for jamming along or listening to music
3-watt design has inherent limitations
The Fly 3 takes the micro amp concept to the extreme, with three watts, two channels, digital "tape" delay and Blackstar's Infinite Shape Feature for British and American sounds. Furthermore, an MP3/Line In socket allows the FLY 3 to be connected to an MP3 player, mobile phone, laptop or tablet. When connected to a FLY 103 extension cabinet (sold separately or as part of the Fly Stereo Pack), it becomes a 6-watt stereo amp for guitar or music playback.
For all its features, it's the tone that really makes the Fly 3 soar. The unit sounds as good as practice amps four times the size, with thick bass, ringing cleans and substantial gain. Overall, a huge success in a tiny box.
9. Vox Mini Superbeetle
The iconic Super Beatle returns in shrunken form
Launch Price: $329 / £339 | Type: Digital modeling mini-stack | Output: 25W | Number of channels: 1 | Speakers: 1x Celestion 10" Speaker
50 watts of output
Classy looks and tone
Powered by analog Nutube circuitry
High-gain folks will need to look elsewhere
This miniature amp stack, a recreation of the iconic Super Beatle, stands nearly two feet tall. But don't be fooled by its diminutive stature—the amp is more than loud enough. The Superbeetle can pump out 50 watts of output at four ohms, 25 watts at eight ohms and 12.5 watts at 16 ohms. The head is powered by analog Nutube circuitry, which employs a VFD (vacuum fluorescent display) tube that captures the same sound and response of vacuum tubes without any of the inconsistent elements.
Controls include volume, bass, treble and gain and a mini-toggle standby switch. The digital spring reverb and tremolo each have their own singular control, with the tremolo being driven by Nutube technology. On the rear panel, there's a flat/deep EQ switch, impedance switch, ECO switch, dual speaker output jacks and a headphones/line out jack. The Mini Superbeetle's vertical open-backed cabinet with chrome stand (and no, it doesn't tilt) houses a single custom Celestion 10-inch speaker.
The result is classic looks combined with sweet jangly tone in a miniature amp stack that will sit well onstage—or anywhere.
10. Behringer Ultracoustic ACX450
Great acoustic tones with feedback control
Launch Price: $229.99 | Type: Digital modeling acoustic | Output: 45W | Number of Channels: 2 | Speakers: 8" Bugera | Weight: 29.1 lbs
Feature-packed
FBQ feedback indicators fight feedback
Dual effects processors
Not much
The 45-watt Behringer Ultracoustic not only looks amazing, but also has a ton of features to keep you inspired and sounding great. The two channels are utilized so while you plug your acoustic into channel one, channel two allows you to input a microphone or another source. The FBQ Feedback Indicators allow you to control the feedback coming out of your amp by monitoring the LEDs on the 5-band graphic EQ. If it's guitar effects you're looking for, the ACX450 allows for 16 different presets on each channel, including chorus, delay, reverb and more.
Add in the unit's sweet tones and vintage, rugged looks, and the ACX450 is a winner all around.