This year's Black Friday guitar deals mean big reductions on lots of tempting gear, but for guitarists and home studio producers, we've found something extremely exciting for you. I'm a massive fan of IK Multimedia, thanks in part to its ever-growing range of portable recording gear, but it all started with Amplitube. As the first - and, in my opinion, still the best – amp simulator to break into the mainstream, it's become a staple part of many producers' recording rigs – and luckily you save big on AmpliTube and Tonex in this epic Black Friday sale.
IK isn't shy about offering deals on its legendary software. Still, we don't recall seeing one as big as this on its Amplitube 5 Max package, essentially the full-fat version of Amplitube, including all its licensed amp collections from Fender, Mesa/Boogie, Soldano, and the like. Not only that, the offer also extends to IK Multimedia's Tonex Max package, which gives you the chance to create and share tone models based on pretty much any real-life amp you can think of.
There's a lot for guitarists to like here, especially at this low price. Black Friday 2023 continues to deliver the goods, so be sure to take advantage while the offers are still live.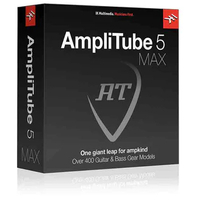 Amplitube 5 Max: Was $299.99, now $79.99
Save big on Amplitube 5 Max from IK Multimedia this Black Friday. For a limited time, you can score a whopping over 70% off its original price!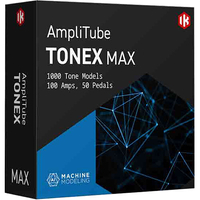 Tonex Max: Was $299.99, now $79.99
Big Black Friday reductions on IK Multimedia's Tonex Max package. Big the full-featured amp modeling app Tonex Max for only $79.99!
For guitarists, Amplitube has long been the standard bearer of amp simulators. The very concept of being able to take your electric guitar, plug it into an audio interface and then be able to play, practice and record with a near-unlimited number of amps, cabinets, pedals and microphones still has the capacity to impress in 2023.

The most recent vintage, Amplitube 5, reduced from $299 to only $79.99 this Black Friday, continues the journey with incredible collaborations and models from Fender, Orange, Mesa/Boogie and more, making it an indispensable part of any home studio arsenal.
Tonex is a more recent innovation from IK and allows people to access Kemper-like abilities to capture and model hardware amps to store within your laptop for future use, effectively creating Amplitube sims of real-world amps.
Do you have a friend with a bigger or better tube amp than you have? Ask them nicely if you can model it, and then – in a way – it becomes your amp, too, only without the need to lug it in and out of a van every time you play a show.
Once you've got the amp saved, it then operates in the same way as any Amplitube model, giving you complete control over all of its individual parameters, and the chance to pair it up with a range of different cabinets, pedals and microphones to get the perfect tone you've been looking for.
Now, if you're familiar with elite amp modeling solutions like the Kemper system, you'll know they don't come cheap. This makes the Black Friday deal for Tonex Max – down from $299 to just $79.99 – quite remarkable and well worth a look.
Literally every amp you could ever think of for under $80. What's more, if you purchase both Amplitube 5 Max and Tonex Max, you can have both for the even lower price of $129.99. Black Friday truly is the gift that keeps on giving.
Looking for more great Black Friday deals? Check out our Black Friday hubs below